Shoe Care
ROUGH-OUT SUEDE
Whether it is European Calf, Calf Suede tanned in England or Cordovan from Horween in North America, Crockett & Jones prides itself on using the finest quality leathers available. By doing so, we provide our customers with a product that will continue to age well given the right care and attention. Rough-Out Suede is rather a standout material in the collection, thus its very own section within our shoe care pages.
How to Care for Rough-Out Suede
SHORT FILM
By far our most casual of materials, those who own Rough-Out Suede C&J's get quite attached to them very quickly! With a little help from Ben and Chris, both managers of Crockett & Jones stores in London, we have produced a short film to help you care for this tough, rugged and characterful leather.
Step 1
REMOVE THE DUST & DIRT
Brush your shoes to remove dirt and dust. (You should have a brush specifically for this job, do not use your horsehair polishing brush).
If brushing your shoes does not remove all of the dirt, use a damp cloth to clean away the areas (do not use any soap or solvent based fluid).
With the nature of Rough-Out being a rugged heavy duty suede, you can be a little more liberal with the amount water you use to wash dirt away. For very stubborn dirt, you can use a light mixture of detergent and water.
Make sure you leave the shoes to dry naturally; you must not dry your shoes on a radiator or heater.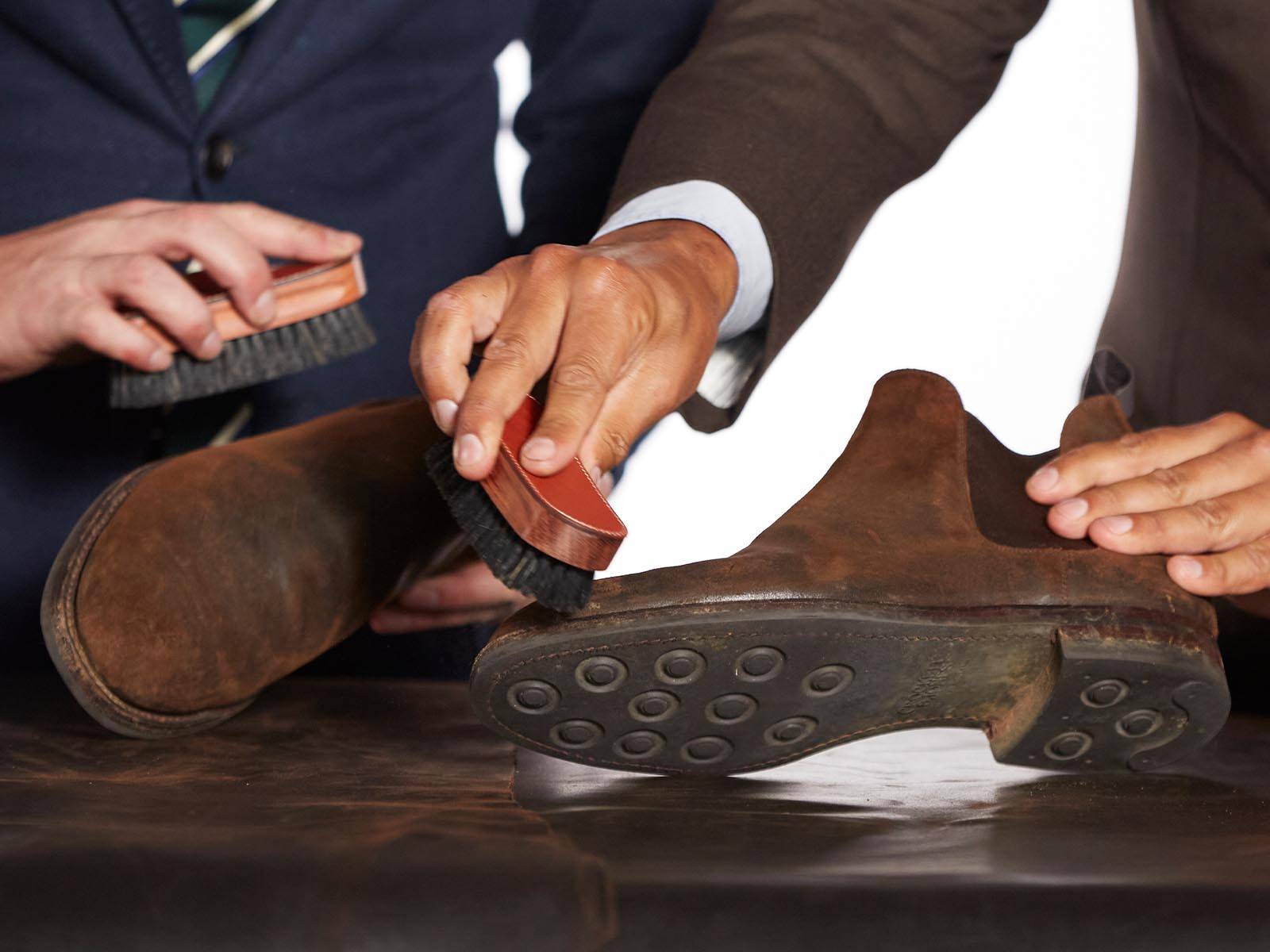 Step 2
NOURISH & REJUVENATE
Once dry, spread a small amount of Dubbin (Grasse) evenly over the shoes. To do this, you can either use your fingers or by using a small shoe/applicator brush.
Use sparingly each time, to build up in layers. The Dubbin will remain on the surface of the Rough-Out Suede but it will also sink in and nourish it deeply. If a second pass is required, it is important to use small amounts each time. A layered approach will increase the water-resistance but be aware that the dark brown will get darker with each application.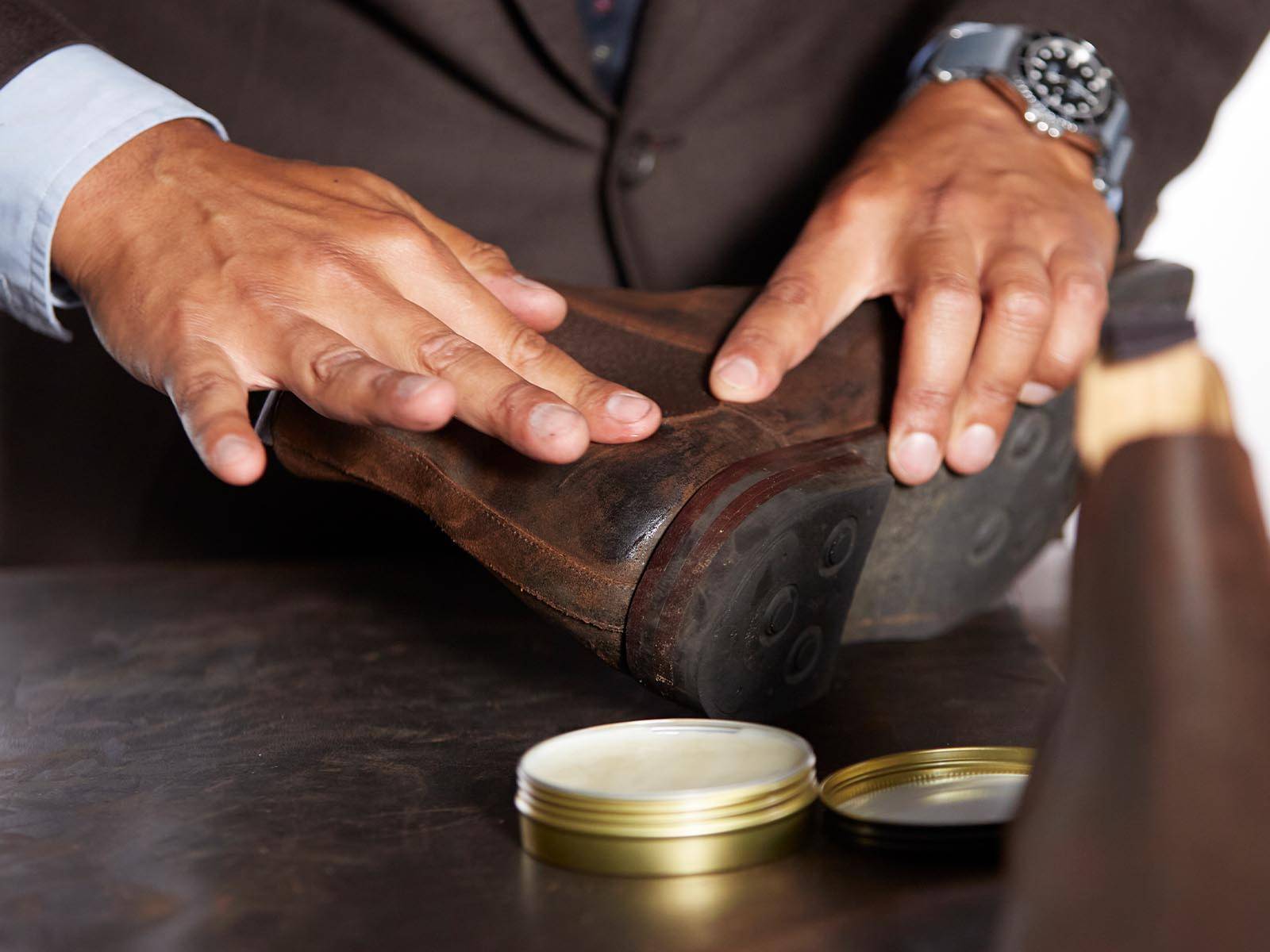 Step 3
STIFF BRUSH
After the Dubbin has had the chance to settle into the Rough-Out Suede, gently brush the shoes all over with a back and forth motion, using a slightly stiffer brush (medium shoe brush).
Try not to buff the shoes too hard as overzealous friction may cause damage to the leather surface, removing the dubbin you have just painstakingly added. Friction will potentially burn and therefore dark the leather!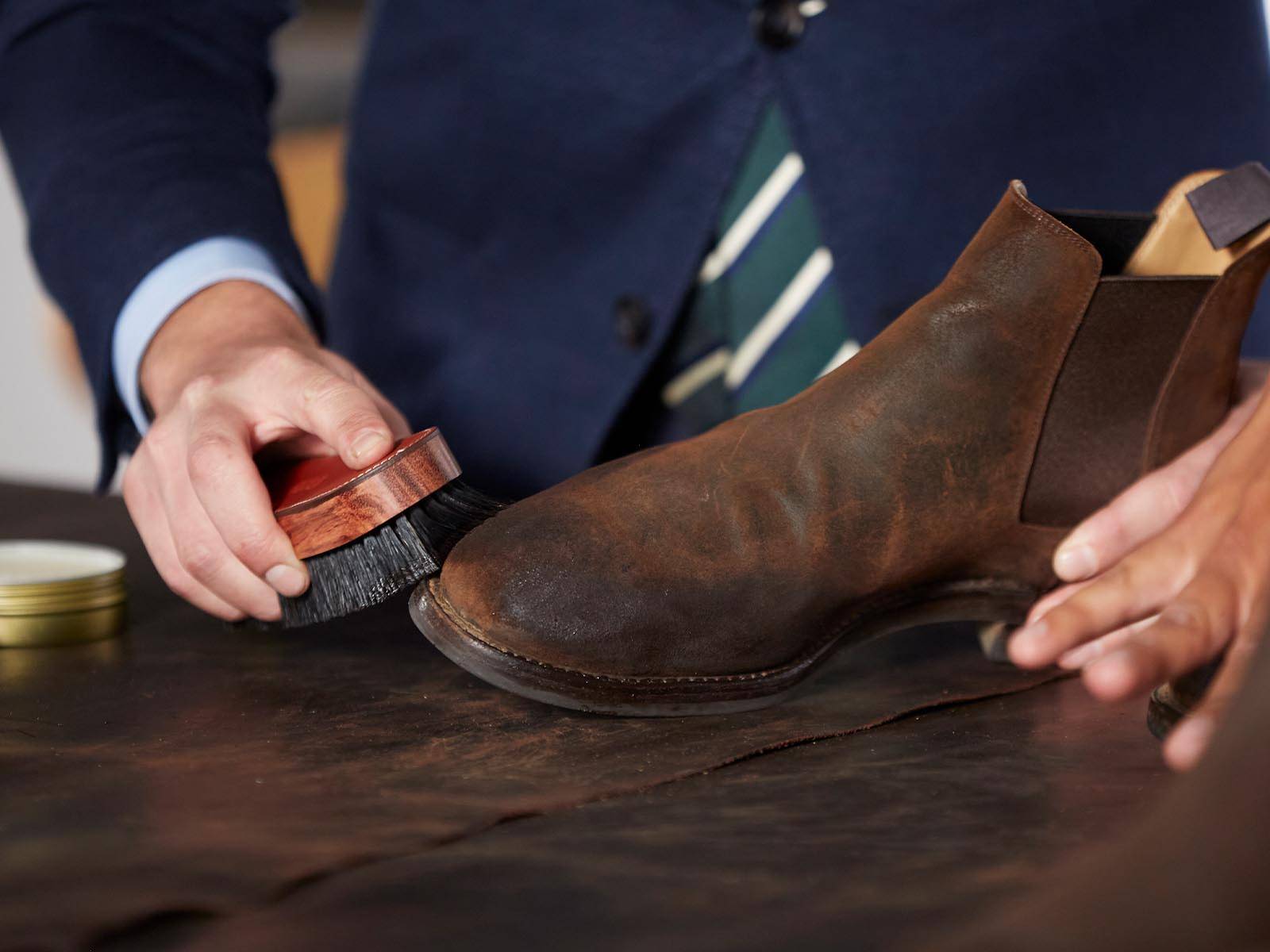 Before you get started
A FEW ADDITIONAL TIPS...
Tip 1
USE SHOE TREES - Using wooden shoe trees will help to absorb moisture and maintain the shape of the shoes as they dry out. Using a shoe horn prevents damage to the heels, counter and top line.
Tip 2
MIX IN SOME CREAM - You can mix the dubbin on the end of your applicator brush, with some Shoe Cream to darken down the Rough-Out Suede by using the colour pigments in the Shoe Cream. This will help to get your shoes looking as new if the rougher look is not to your liking.
Tip 3
STORM WELT CARE - A storm welt aids waterproofing along the feather-edge (between the sole and the upper). This storm-welt can really benefit from a coating or wax. Unlike the upper leather, we recommend putting a healthy amount of wax using a smaller welt brush. Allow to dry (soak in) and buff off with a different buffing brush.
Tip 4
WAX FOR ADDED PROTECTION - Our Rough-Out Suede styles are built to handle the elements but the welt and the 'through' (mid-sole) are both leather components. Use a wax polish to protect and add water resistance to the welt and a wax crayon to re-seal and re-colour the edges of the soles.
The Full Works
Rough-Out Suede
In the first of a new series, The Full Works, we explore the different boots, shoes & belts available in our signature leathers. Starting with Rough-Out Suede, we present some pointers on both styling and caring for this uniquely rugged material.