At Crockett & Jones we pride ourselves in using the highest quality materials, and for our Hand Grade Collection this could only mean the finest 'A Grade' aniline calf suitable for our perfected 'Antique' look. We present to you our Top 5 Men's Antique Calf shoes.
Audley – Dark Brown Antique Calf
To begin our Top 5 Men's Antique Calf is one of our best-selling original classics from the Hand Grade Collection, Audley. A Straight-cap Oxford made on our 337 Last, Audley has a soft square toe on one of Crockett & Jones' most revered lasts. Featured in our 'One Style Worldwide' series, Audley is regularly seen as the dominating Oxford style on our #madetobeworn social media campaign and always tops the 'best-sellers' list for Hand Grade Oxfords.
Crawford – Tan Antique Calf
With the ever-growing popularity of Crawford in Dark Brown Antique Calf, we introduced Tan as a new lighter colour way to our Spring Summer 2018 Hand Grade Collection. A traditional Penny Loafer on Last 363, Crawford offers an asymmetric look with a round toe, slimmer back part and a narrower waist – all the foundations to an excellent fitting Hand Grade Loafer.
Weymouth 2 – Dark Brown Antique Calf
Our Hand Grade wholecut Oxford, Weymouth 2 with its sleek minimalist design is a style not to be missed. Hand polished to perfection, the rich tones of the Dark Brown Antique Calf are emphasised throughout this seamless pattern. Made on Last 373, Weymouth 2 offers a closer heel clipping, a slightly narrower waist and good arch support, creating an elegant look paired with our Hand Grade bark tanned leather sole. Weymouth continues to buck the fashion trend or shorter and rounder.
Egerton – Tan Antique Calf
The newest Oxford in the Hand Grade Collection, introduced for Autumn Winter 2018, Egerton in Tan Antique Calf is a style we believe is set to become a classic. An Adelaide Oxford with an 'austerity' u-throat and straight toe cap design, Egerton is paired with our single bark tanned leather sole - complete with a gentleman's corner to reduce trouser snagging. Produced on our newer 367 Last, development is key in the concept of Egerton's design, allowing a soft traditional square toe with our updated back-part for a closer fit.
Seymour 3 – Dark Brown Antique Calf
To complete our Top 5 is Seymour 3 in Dark Brown Antique Calf, a plain fronted double buckle Monk Shoe. A favourite to many Hand Grade customers looking for a sleeker take on a classic Double Monk (sans-toe cap). Seymour's design screams elegance from its highest quality Antique Calf to its sharp chiselled toe. Each pair expertly hand polished and burnished within the Shoe Room of our Northampton factory, this is style not to be missed by any Gentleman looking to add something with a little more pizzazz to their footwear collections.
Featured Products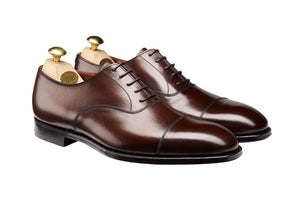 Dark Brown Antique Calf
€790
Dark Brown Antique Calf
€795
Tan Antique Calf
€785