Have you always worked in shoemaking, Bob?
More or less. I've done 30-years in Northampton shoes with an 18-month interlude in the middle. I left school at 16-years-old, and I'd always wanted to work with cars, so I got a job at an engine reconditioners as part of a government backed scheme. Sadly, after six-months when the scheme ended there was no chance of an apprenticeship, so I was back to square one. My father, who worked for 50-years at another shoe factory in Northampton, got me in the door there. I remember thinking "if I'm going to stick with factory life then I'm going to make the most of it" and that was that.
When did you join Crockett & Jones?
I moved to C&J when I got married and moved closer into Northampton. I started in the preparation department, working on back-part moulding. From there, I worked through various different processes in preparation, and then moved onto making and finishing. I'd worked as a sole stitcher in my previous company, so I progressed into the making room fairly speedily. In shoemaking, you'll find that if you can get your head around a process nice and quickly, you'll be moved around until you find your niche. Eight years ago, following a sixteen-year stint as the finishing room under-supervisor, the old supervisor left and I took on the job.
What was it like learning your trade from the ground up?
There aren't many professions left where you have to do a number of years learning individual manufacturing processes before you can oversee them in a sequence. There's a good understanding between management at C&J and the connection with the factory floor, and it does help if you know almost every job before you start as a supervisor – certainly to the standard where you can tell right from wrong.
Tell us about an average day in your role?
There's no such thing here. Every day is consistent to the point that you have work that you need to get through, but there's always something thrown into the mix that keeps things interesting; whether that's changes to deadlines or hiccups with production. The main challenge for me is to ensure that work flows smoothly through the department, but not so speedily that our quality suffers. We have to encourage the quality at all steps of the process here, because that's what sells Crockett & Jones.
Any other challenges you contend with?
I look after around 40 people across two floors and three workrooms, so I can't micro-manage. Over a period of time, you have to assess the people you have in the department and pin-point the most proactive members of the team to take the lead on their respective processes – that way you don't have to stand over workbenches all day long. This is a people job as well as a quality job.
What's factory life like?
Well, it's not how everyone thinks it is. Sometimes there's a stigma attached to working in a factory, but it's not until you work in a place like this and see the skill levels that people have on-hand that you recognise how valuable factory communities are. When you think about it, a single Crockett & Jones shoe is picked up close to 200 times on its way around the factory – and that's just one shoe.
What's the most rewarding aspect of your job?
We've got people around the world wearing our shoes, ranging from movie stars, to royalty, to the well-dressed man in the street. It's great to work for a truly global brand. And it's been satisfying to see the transformation of Crockett & Jones into a brand in recent years. When I joined 30-years ago, we made white label shoes for other companies. Now, the Crockett name stands on its own. When you've got James Bond wearing your shoes, you know you've reached a certain level.
And just for fun; what's your favourite pair of Crockett & Jones shoes?
I'm partial to a wholecut. We make a pair called Weymouth 2 in Dark Brown Antique Calf and Black Calf, which are part of our Hand Grade Collection, finished with closed channel soles. They're very elegant, but they're also smart in a casual way. You can wear them with a suit or a pair of jeans alike – and that's unusual for dress shoes like those.
Get the look
Dark Brown Antique Calf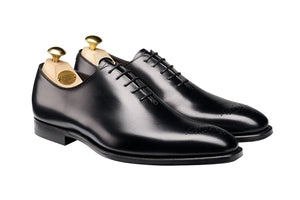 Black Calf