The Shoe Room, the final department in the Crockett & Jones factory. Here, the shoes go through their final finishing touches before they are laced and boxed in our signature British Racing Green or Hand Grade Navy and Gold embossed shoe boxes.
To create the rich depth of colour, known to a pair of Crockett & Jones shoes, Antique is applied by hand to the uppers in a process called 'Antiquing'. However, before our antique is applied, the shoes are 'burnished'. Burnishing is done by a skilled Burnisher, who's job it is to vary the undertones of the upper leather by gently using friction to burn certain areas of the shoe. This is carefully built up in layers at a time, requiring excellent care and attention.
For some leathers this process will be repeated multiple times to achieve an antique tone of colour with the shoes being 'soft mopped' in between each coat of antique, giving a layered effect.
Today, all of the Crockett & Jones Hand Grade Collection are given a further Hand Polish, using a high quality Bees Wax polish, soon to be available from all Crockett & Jones retail stores.
Leather finishing is much like the finishing of hand-crafted solid oak furniture - it takes time and must be approached with layers in mind. Without the high quality based material it is very difficult, almost impossible, to achieve the desired effect.
The lasts are then ready to be removed, the leather soles stamped with the Crockett & Jones brand and in-socks fitted. Finally, each pair of Crockett & Jones shoes and boots undergo a scrutinised check for quality before they can be passed for lacing and boxing.
Featured Products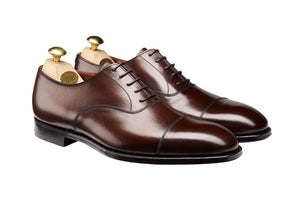 Dark Brown Antique Calf
€790
Tan Antique Calf
€815
Tan Antique Calf
€785