The Sydney occupies a unique spot in Crockett & Jones's arsenal. It's at once extremely useful and yet distinctive. Most classic English penny loafers feature a wide rounded toe (like our Boston or Harvard loafers) which bring with them a definite nod to mid-century loafer styling. The Sydney is more contemporary, and its elegant almond shaped toes and sweeping side-walls lend it a modern, definitive profile.
Sydney owes this sleek silhouette to the 341 last, which was developed in late 2003. It's one of our most popular and most frequently used lasts; seen across a good mix of formal and smart-casual styles. Our woven leather Kensington loafers (new for SS20) are lasted on the 341, but then so is the timeless Westfield – proof of its wide-ranging versatility.
Speaking of which, Sydney is available in no less than four different combinations of uppers and soles; we offer our classic Black Calf, Dark Brown Burnished Calf and Dark Brown Suede with both single leather and rubber City Soles, and in both a regular 'E' and wider 'G' fitting. Beyond these classics, we also make the Sydney in Snuff Suede for something even a little more relaxed.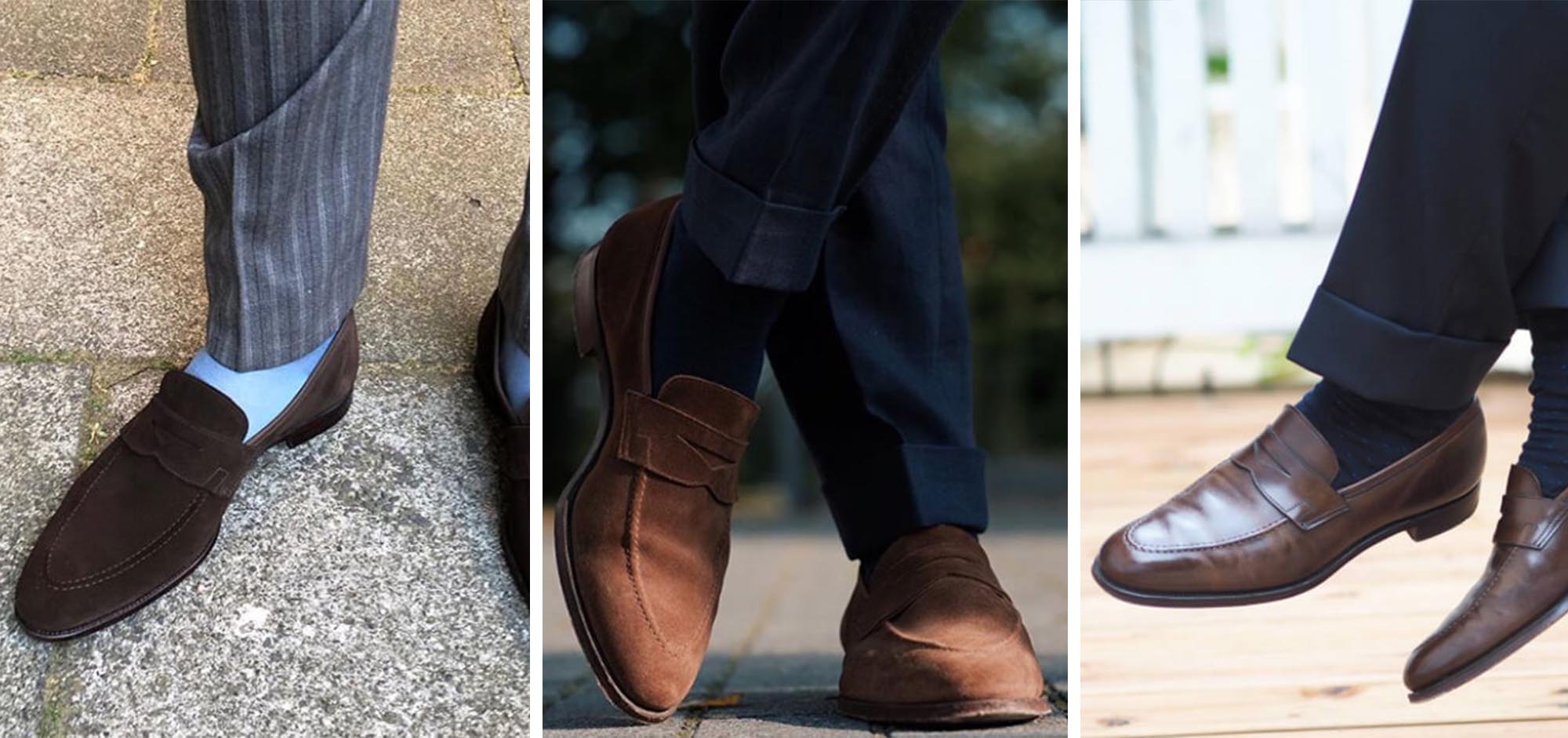 Towards the more formal end of the spectrum, Helsinki based style writer @dresslikea wears the Sydney in Dark Brown Calf in the understated combination of navy blue and brown. The loafers' brown calf lifts a classic navy worsted suit (finished with chunky turn-ups on the trousers, of course) and the tonal spotted socks add a welcome touch of character to a polished look.
In Dark Brown Suede, the Sydney is also plenty smart enough to dress up. @carlo_corbata contrasts his pair with grey striped suit trousers, and picks up on the lighter stripe with fine sky blue cotton socks – a swish look if ever there was one. By contrast, Mr @kingbee_aq's take on dark brown suede is more low-key; he styles his Sydneys with earthy olive chinos. Worn sock-less like this, the Sydney is more than comfortable enough to wear throughout the warmer months.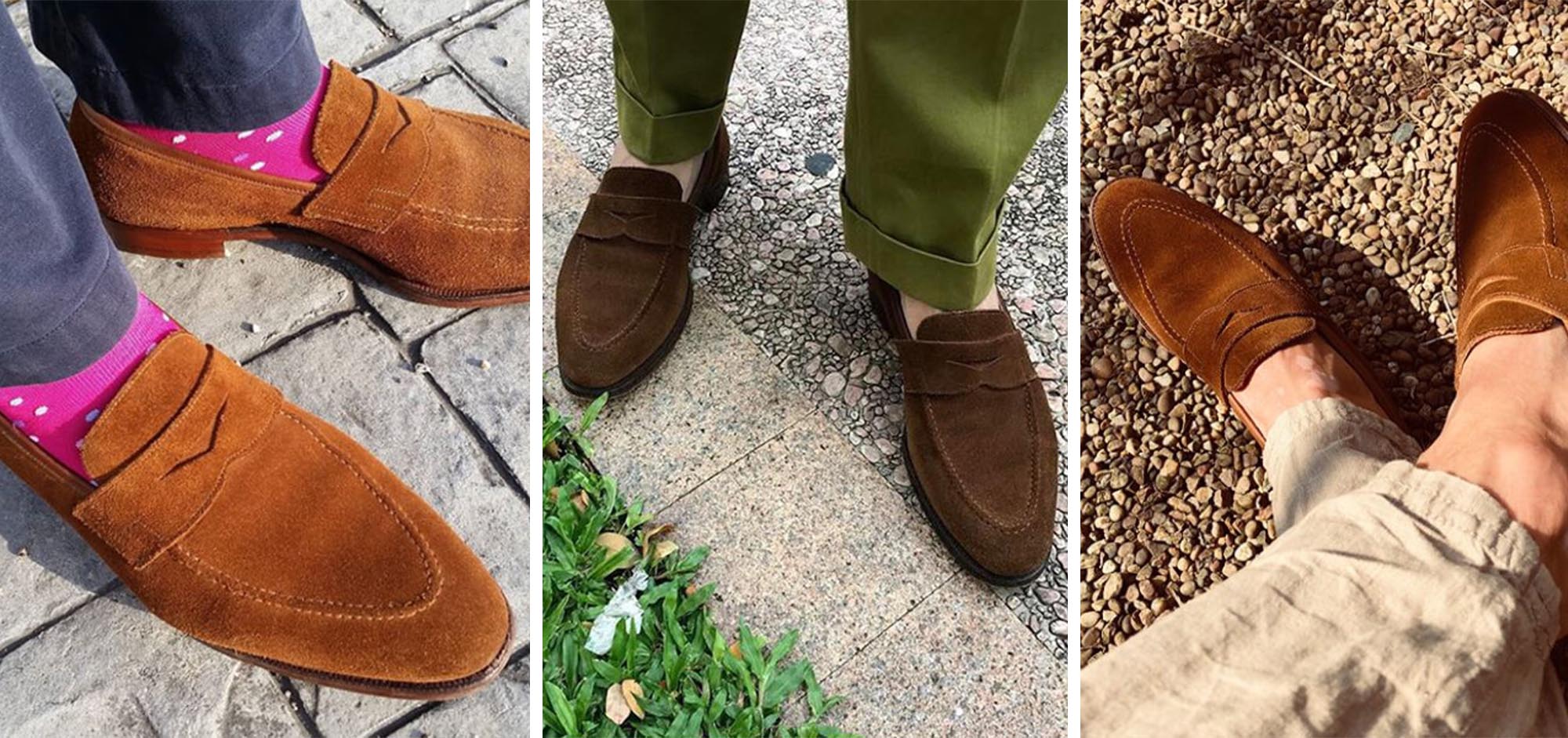 @muddy250 reinforces the point. In Snuff Suede with neutral linen trousers, his pairing couldn't be more summery – or more elegant – if he tried. Elsewhere, @zenmasterstyle has put together a more colourful look, with bright fuchsia spotted socks (we salute your bravery, Sir!) and classic washed navy chinos with perfectly finished plain hems. Then, our final customer brings the Sydney's styling full-circle. @aleksjj's go-to ensemble mirrors that of @dresslikea, with navy cuffed trousers and dark socks. This photograph also demonstrates just how our suede shoes age beautifully; softening into firm favourites over time.
The joy of a shoe like Sydney is the balance it strikes between a distinctive silhouette and sheer wearability. As our ever-stylish customers demonstrate, whether simple chinos or the bottom half of a suit, and whether Dark Brown Burnished Calf or casual Snuff Suede, the Sydney looks the part no matter which way you wear it.