As a manufacturer that carefully selects and utilises a number of different leathers, at Crockett & Jones we don't have favourites. All of our leathers go through the same stringent testing process and are all worthy of our collections. That said, there is no doubt that some feature more prevalently that others, and for very good reason - customer demand. One of those leathers is our Dark Brown Scotch Grain which thanks to Crockett & Jones, is a full grain burnishing calf, that ages with the natural patina of life.
More traditional Derby's are of the full brogue variety with a wing tip design coupled with heavy brogue detailing to suit. However, Derby's of today can be found across all categories: Rubber soles, Leather soles, three eyelet, five eyelet, dress shoe, unlined… The list is almost endless, and there is usually a place on the shelf for all of them.
More pronounced than finer Pebble Grain leather, our own Scotch Grain story goes back a long way. Our Managing Director, Jonathan Jones, decided to perfect a high-quality, versatile Scotch Grain leather for shoes and boots over 30 years ago, in close collaboration with the tannery that we have a long and fruitful relationship with. At the time, the quality of grain leather on the market was not up to our standards, so obsessive about quality as ever, we began to work closely with the tannery to develop the specification of this Scotch Grain leather, to the benefit of our customers and now the customers of other footwear factories.
Our Scotch Grain leather is produced by embossing high quality, aniline-dyed skins with the famous Scotch Grain print. In Dark Brown, our Scotch Grain leather shoes and boots have long been favourites of both customers and our team, but the original will always be its Tan companion. With its rugged looks and thicker substance, Scotch Grain lends itself to robust country styles and practical winter dressing.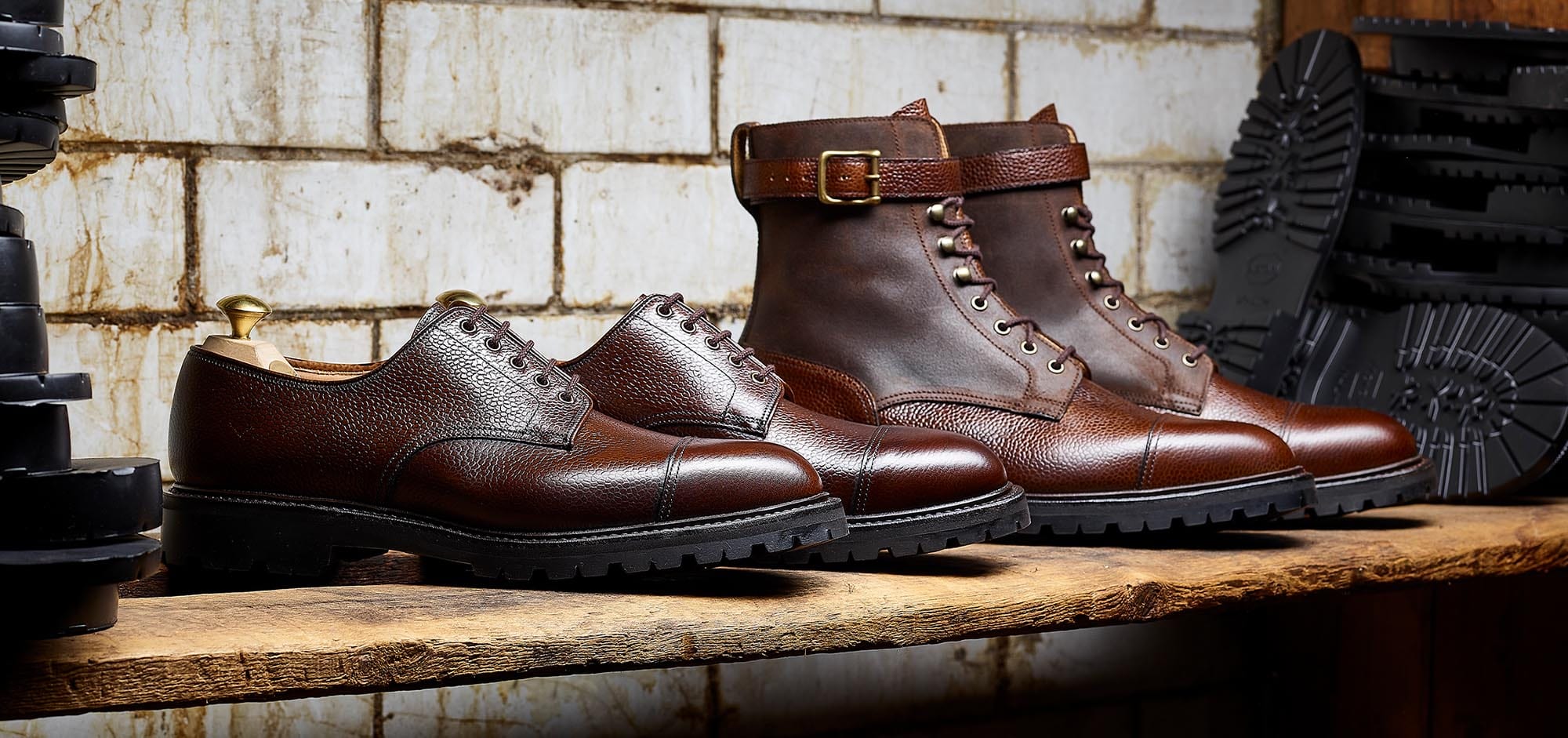 With that in mind, let's start with the newest addition to our Scotch Grain offering, which also happens to be one of our most distinctive designs, proving popular already throughout AW20. Aldershot is an impressive looking ankle boot with the vamp cut in Dark Brown Rough-Out Suede, which contrasts with the Dark Brown grain leather used elsewhere. A boot like this is surprisingly easy to wear today, and gives even the simplest outfits a touch of motorcycle boot attitude. Wear with dark turned-up jeans or thick brushed cotton chinos for a rugged winter look. A thick wooly rollneck and well-worn suede bomber complete the picture.
Our other Dark Brown Scotch Grain boots occupy a similar space in the C&J collection. Each is fantastically versatile – best-sellers winter-in, winter-out. The first is our Chelsea 11, the follow-on from the sell-out Black Editions Chelsea boot in the same leather. Set on the 335 last and the chunkiest Vibram leather cleated soles we offer (which in turn are storm-welted, no less), its broad, deep-set profile makes for a serious-looking boot, and a certain sense of flair. The Chelsea 11 is easy to pair with casualwear, but customers also wear it with slim-cut grey flannel trousers and sleek tapered cords and blazers; both of which work just as well.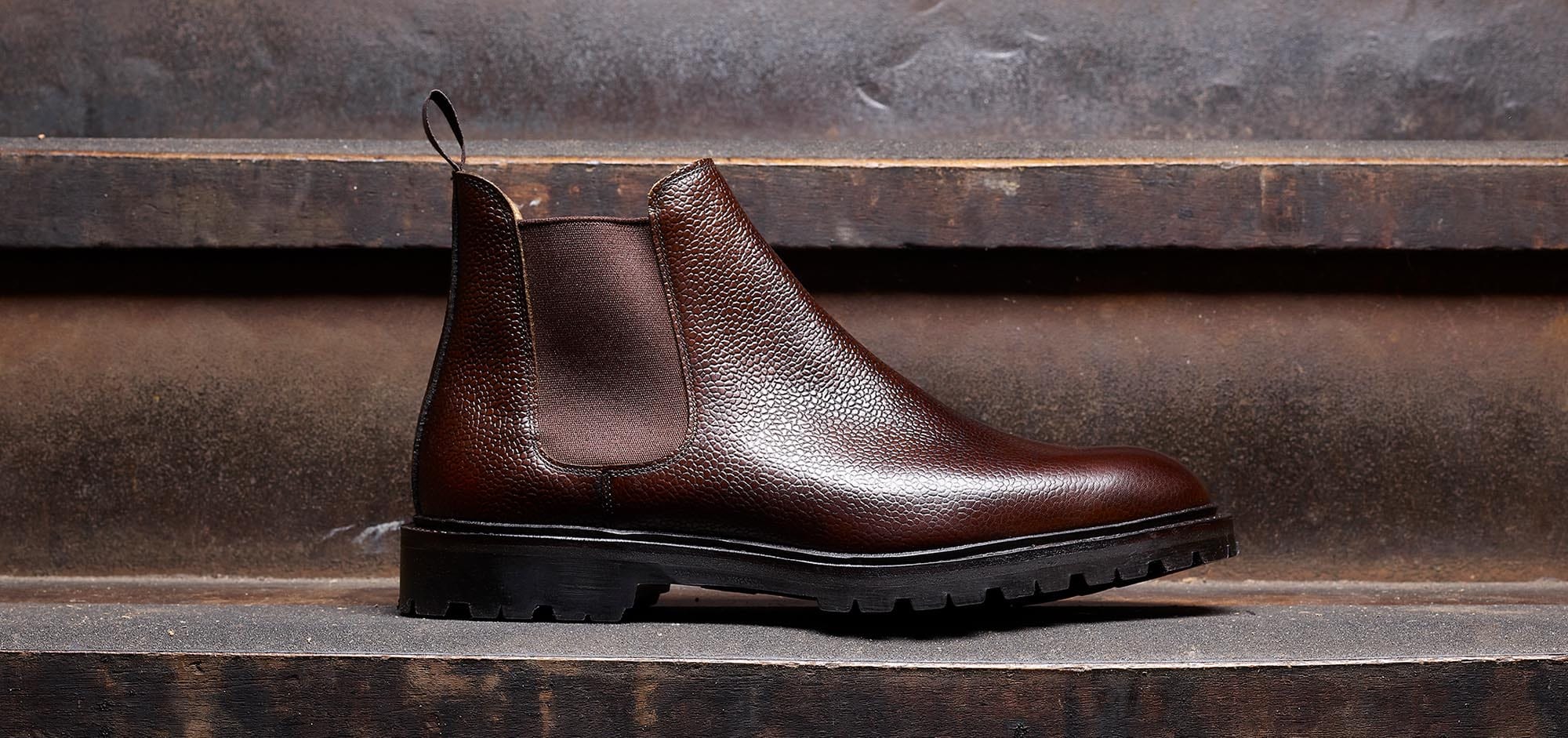 Next up, Coniston needs little by way of introduction. In Dark Brown Scotch Country Grain, it is perhaps the single best-known boot we make, a stalwart of our Mainline collection. Like the Chelsea 11, its profile is quite wide with deep toes, referencing its classic, country-going origins. A boot like this is designed to be put through its paces first and foremost; customers wear Coniston to take on every eventuality from mountainous rambling to salmon fishing – proof of its hard-working design. The only real difference in construction between Chelsea 11 and Coniston is in the sole; while both feature rubber soles and storm welts, Coniston is finished with perennial Dainite soles, which are every bit as practical as Vibram's but a little lower key.
Then we come to Coniston's full-brogue cousin, Islay. Another traditional country style set on Dainite soles, Islay is classically English in its looks; lasted on the 365 with wide-fitting, rounded toes that suit its punched wing tips. Today, Islay is the epitome of traditional style making a timely return. A number of our wholesale clients have adopted Islay as a formal boot to dress up as part of a stylish tailored look – contrasting it with slim-cut trousers and fitted blazers. It's a similar story with Pembroke, our perennially popular country brogue, which brings with it a rugged profile that is surprisingly fashion-forward. Forget the fads and passing whims of other shoemakers playing at 'trendy' chunky footwear – Pembroke is the real deal, a fact supported by its position as a C&J best-seller for well over 20 years.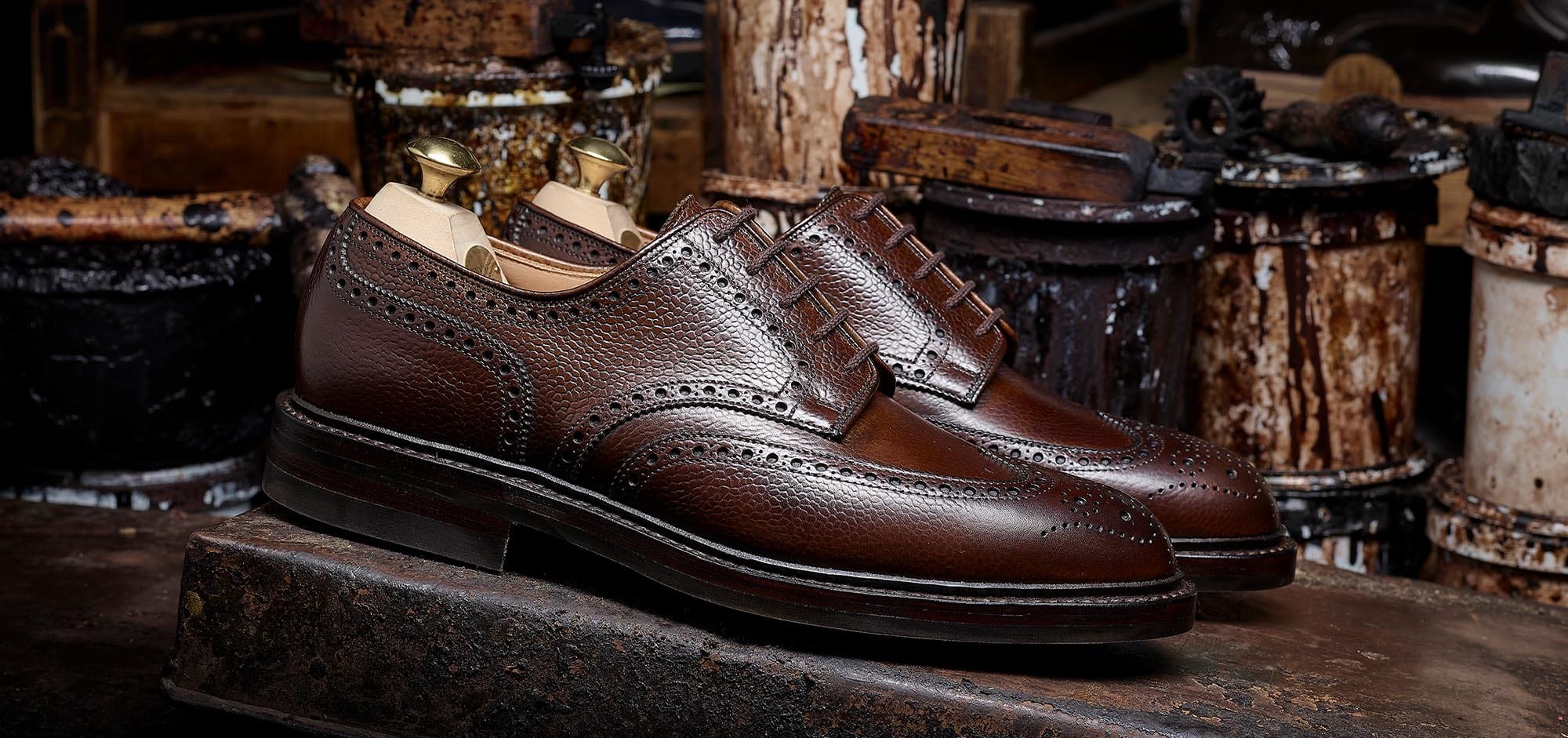 Rounding out our current Dark Brown Country Grain offering is the Sandhurst country Derby, a close relation of Coniston. This has a similar look and feel with its cap-toe design and corresponding storm welted, cleated soles. A shoe like this isn't a million miles away from our smart-casual Lanark derby model, and the benefit of choosing Sandhurst over Coniston lies in the reality that a derby is that little bit easier to dress up than a boot. In poor weather, a shoe like this will sit comfortably beneath a suit or smart separates without looking out-of-place. It'll also do just as well tramping down muddy paths and over fields on a Saturday morning. Smart brass eyelets are a distinguished finishing touch too.
This being 'the full works', we're also duty bound to let you know that we offer a belt in Dark Brown Country Calf that will compliment your Scotch Grain shoes and – given these are likely to be some of the hardest-working C&Js in your rotation – our Pomadier shoe cream and our exclusive Saphir Pâte De Luxe shoe polish are both available in Dark Brown too. In other words, there's no excuse to fail to look after your Scotch Grain go-tos. They might just be our favourites, after all…