Our City sole, exclusive to Crockett & Jones, was designed by Crockett & Jones and is 100% made in England by The Harborough Rubber Co. In today's sartorial world, it is now deemed acceptable for your select pair of city Oxfords, Monk Straps or Loafers to adorn a rubber sole of sorts and with the rise of men's formal shoes teamed with rubber soles showing no signs of slowing, the timing could not have been better for our City sole to join the fleet.
Traditionally, from the English makers that is, these rubber soles were of 'Dainite' variety, manufactured by 'The Harborough Rubber Co.' in Market Harborough, England (Just down the road from Northampton). With their familiar studded design and high quality rubber compound, the 'Dainite' sole soon became a Northampton shoe manufacturer's rubber sole of choice. Having used the sole for nearly a century, we always knew the collection required something less 'country' and more 'city'.
With strong family connections between the owners of the two companies, Crockett & Jones and The Harborough Rubber Co. we set about developing the new sole, totally exclusive to Crockett & Jones and appropriately named the 'City Sole'. The brief was simple, to offer the formality of a leather sole with sharp edge trimming and reduced waist with the comfort, practicality and longevity of a rubber sole.
It is worth noting that we have not turned our back on the classic and world renowned Dainite rubber sole. We have simply confined this to double Dainite, chunky/country styles such as Pembroke/Brecon/Harrogate. The word double refers to a leather mid-sole which we call a 'through' that sits between the rubber sole and the cork filler/insole.
Evolution has of course taken hold and as ever, our customers (wholesale) and our management team are always pushing forward with developments or specification changes. Since the new sole has now been a firm favourite among so many, we have begun to understand that the sole has a further reach than just City shoes – Black Calf Oxfords et al'.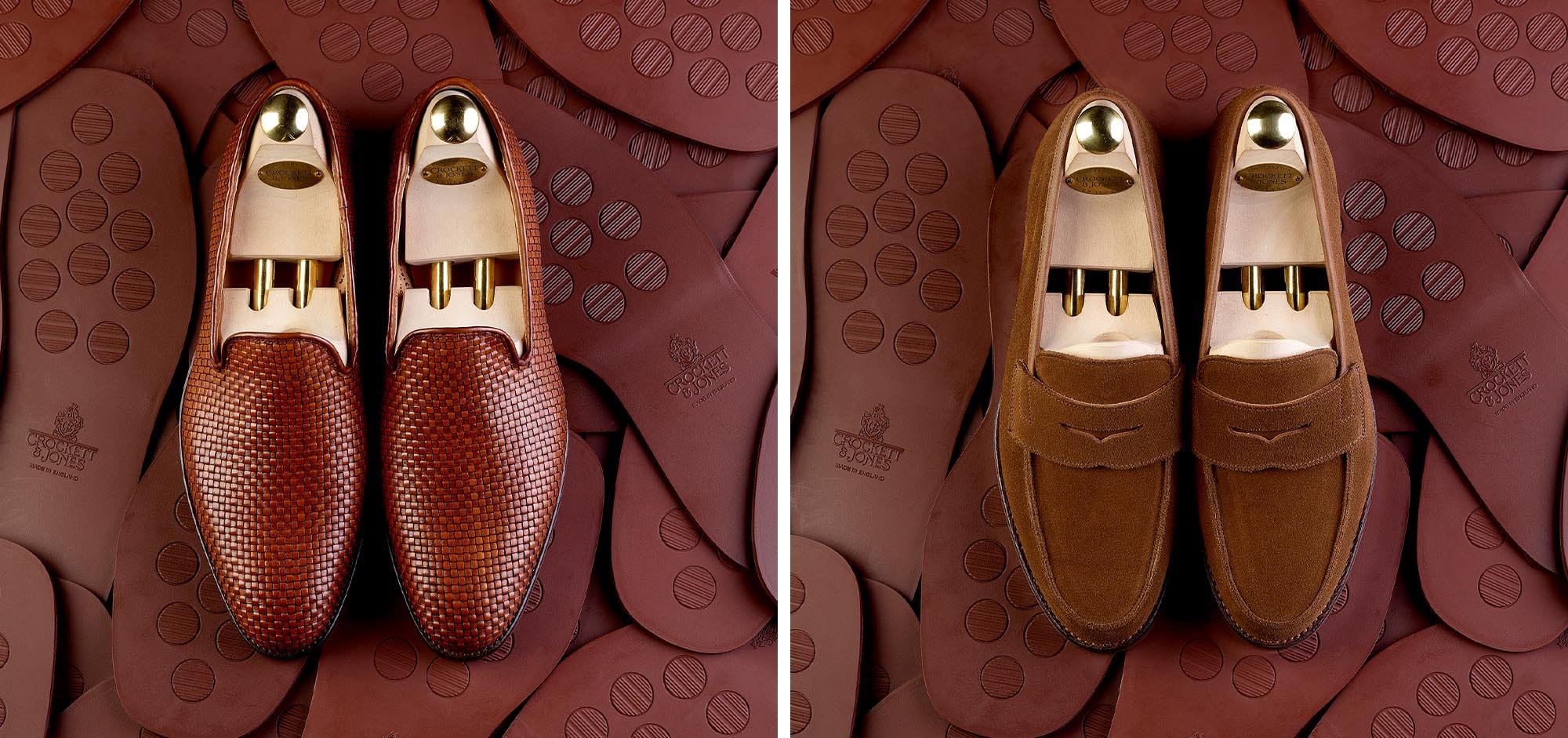 Continuing in the same vein that lead us to develop the City sole in the first instance, the informal nature of the working world has provided us with another opportunity; the City sole's flexibility. By combining our City sole with our smart casual collection such as unlined suede and unlined grain loafers. Flexibility, practicality and comfort are more important than ever, but we (at Crockett & Jones) are not interested in diluting our DNA by producing sneakers or trainers. This is where a sole like the City sole can provide additional variety to our customers and help us to continue to produce fine footwear with all of the aforementioned in place. Styles such as Chelsea 8. Harvard, Sydney and Cavendish, a variety of loafers perfect for spring/summer and less formal versions of Lowndes and Westbourne in suede.