There are a few misconceptions about calf suede. Often, it's assumed that Calf Suede shoes are among the most expensive suede shoes out there simply because the leather is taken from small hides, which is true in part – but that's not all there is to it.
In reality, Calf Suede comes at a premium because it is a Calf skin that has been 'reversed'. These smaller skins are in prime condition, coming from younger bovine with a tighter fibre structure with the bare minimum of imperfections. The result is a reverse Calf Suede as opposed to its less expensive split suede counter-part, featuring an impressive handle and a superior soft, velvet like nap. Which in turn helps to create a shoe that is exceptionally comfortable that moulds to the contours of your foot whilst holding its shape brilliantly over time. It is perfectly acceptable to wear Calf Suede year-round, but these properties also make it a natural choice for fine weather and mild temperatures. Here then, are a few of our favourite Calf Suede styles for spring and how we like to wear them.
Given its quality (and the fact that top-grade calf suede isn't easy to source) our calf suede shoes tend to be weighted to Hand Grade models, and the Cadogan – an unlined Hand Grade penny loafer with a butted seem apron and sleek lines care of the 363 last – is a great place to start this spring. You'll find it in either Dark Brown or Tobacco Calf Suede with closed-channel single leather soles. Few shoes could be easier to wear – more suited to a classic dark grey fresco or beige linen suit and tie. But feel free to dress it down… we just make the shoes!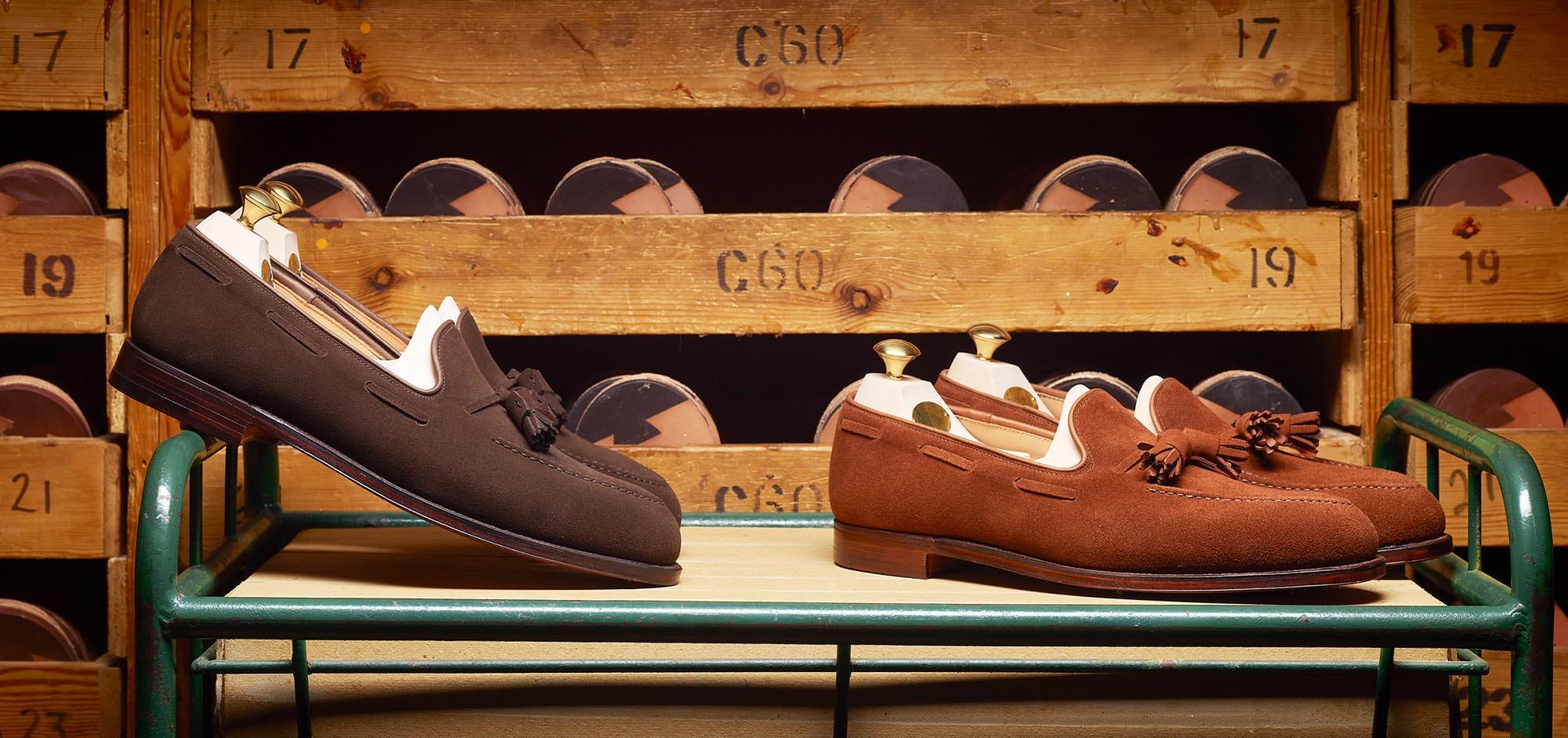 If you prefer tassels, we also make the time-honoured Cavendish in Dark Brown, Polo Brown and Black Calf Suede too – one of only a handful of models in our Main Collection to benefit from calf suede uppers. Again, these are a fuss-free shoes to dress up or down. You can wear them with washed cotton chinos now, and swap out for linen trousers or tailored shorts in a month or so's time – sans socks, if you dare or white for controversy!
The other Main Collection models we make in Calf Suede are old favourites of similar standing. The first is the Westbourne in Dark Brown Calf Suede, our signature Adelaide – so called for its distinctive 'U-shaped' throat. There are a few things that set this shoe apart; from its well-balanced semi-brogueing, to its unmistakably English chiselled toes, to its handy rubber 'City' soles. Personally, we think it looks the part with hearty, worn-in indigo denim jeans on the weekends – although it'll look just at home in the office with an unstructured blazer and tailored trousers.
For the traditionalists among you, the Westgate 2 is a handsome full-brogue alternative to the Westbourne, made on the new 379 last (know for its fitting) with a classic round toe and its snug heel fitting. In suede with 'City' soles, though, it feels surprisingly contemporary, so the same principles apply here as to the Westbourne. Wear with dark blue jeans or a royal blue summer suit – or anything in-between.
The keen-eyed among you may also have realised that we offer two different shades of dark brown coloured Calf Suede. The first we've already covered: our signature, versatile 'Dark Brown' that will go anywhere and do anything. The second is our Espresso Calf Suede, which is a little darker – almost dark chocolate in colour. This is in many ways the crème de la crème of Crockett & Jones suedes: it's subtle, distinctive and dressy. We currently offer two models in Espresso, Hallam and Lowndes, although you can always take advantage of our Special Order Service too.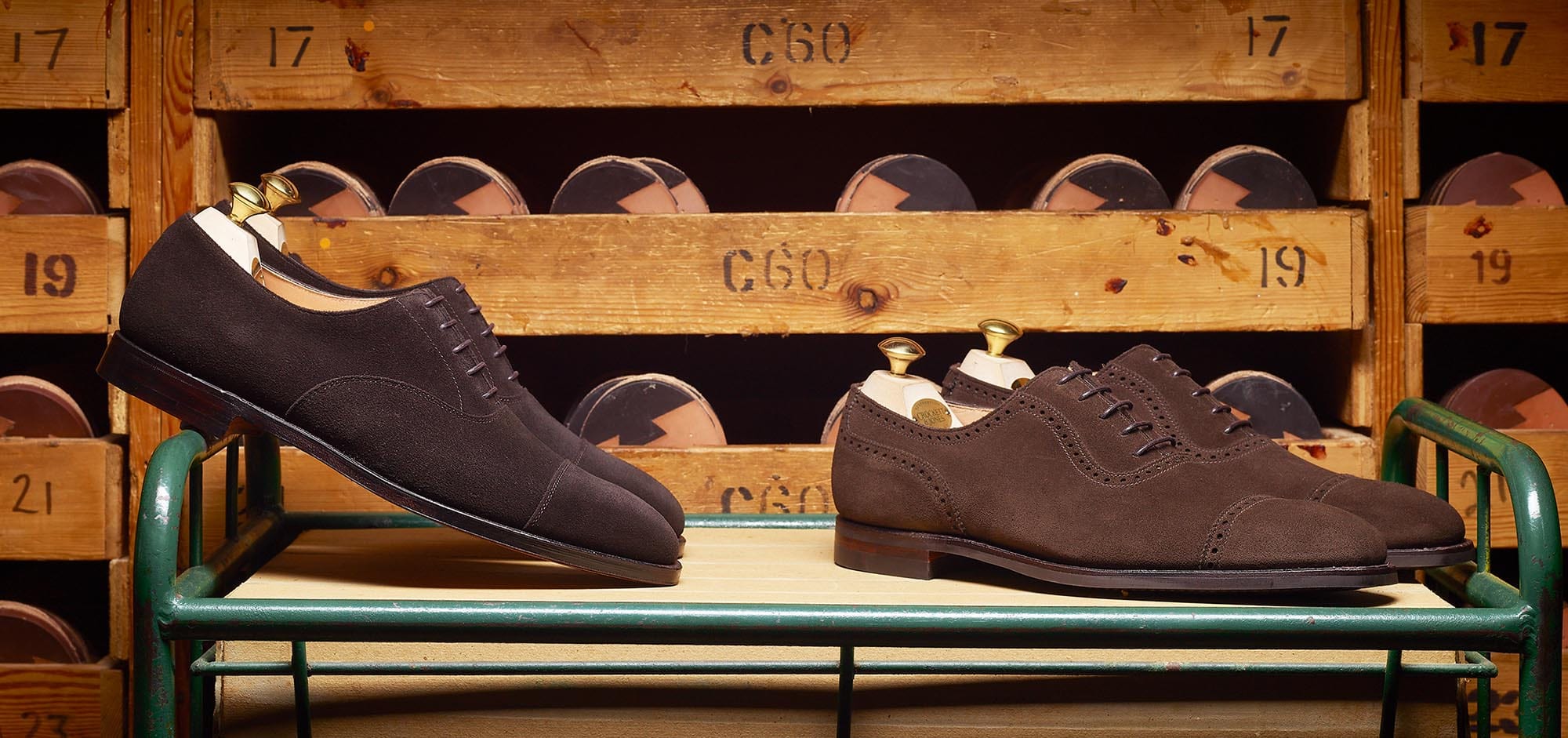 Each of these is as sophisticated as the other. The former is a plain cap-toe lace-up and the second a double-buckle monk shoe. Both are lasted on the contemporary 348 last and set on single leather soles. Smart-casual staples in one of our most underrated and little known colours, either will see you properly turned out come rain or shine this season. The Espresso colour is well suited to dark denim, or else mid-to-dark grey tailoring.
We have one final recommendation for the connoisseurs among you. The Kempton 3 demi-boot was re-introduced to our Hand Grade collection a few seasons ago (the original design was taken from our mid-century archives) and has remained something of an unsung hero ever since. Simple and chic, it's an unusual whole-cut loafer style with an elongated tongue and hidden elasticated sidewalls. In Black Calf it's perfect for formalwear (try it with morning dress for the races or wedding season) but we also offer the Kempton 3 in Polo Brown Calf Suede.
This design first started to appear in our collection from the mid-60s, but today it's updated on the 367 last, which combines impressive technical fit qualities with soft square toes. Polo Brown is perhaps the perfect casual colour for an elegant shoe like this, and beneath a pair of pale chinos or jeans with rolled-up hems, the Kempton 3 is at once distinguished and inconspicuous. Try yours with cream cotton trousers or mid-blue washed jeans with neat, plain hems.
Of course, at C&J, the quality of all our suedes is of paramount importance, but we hope it's not immodest to say that our calf suedes are truly exceptional. We're very proud of all these models and were it not for long-standing relationships with some very particular tanneries, we would simply be unable to make shoes like these anymore. All of which makes these investments to stand the test of time. Buy a pair for spring and you'll keep them for years to come.