It's a myth that you can't wear boots in the summer – especially in a country like a fair old England – where summer currently looks like it'll just be slightly less drizzly than autumn, at best. In fact, this is the season where the lightweight, low-cut suede boot, which sits just at the top of the ankles, comes into play.
The 'OG' low-cut suede boot is of course the Chukka, and at Crockett & Jones we make several different iterations on the theme. The first, perhaps unsurprisingly, is the Chukka-proper. Our Chukka is truly timeless, uniquely lasted on our 200 last, which was produced in 1934 with a classically round toe and narrow waist. Today, we keep this last exclusively for our Chukka boots, ensuring they are as authentic as can be, finished with three eyelets to each boot. In Snuff and Dark Brown Suede, our Chukkas are indispensable come rain or shine, finished on single-leather soles. They're unlined, as you'd expect, which ensures they're not only lightweight and malleable, but they'll be surprisingly cool to wear in warm weather too.
Alongside the seasoned Chukka, Chiltern is another long-standing low-cut boot at C&J, lasted on the 224 dating back to 1953 – so it's a comparative spring chicken. Like the 200, the 224 has a well-rounded silhouette that suits all manner of feet, but it's toe-shape is a little less bulbous. Where Chiltern differs most clearly from our Chukka is in its sole. Chiltern is set on classic Dainite rubber soles, finished with dark tan edges (for a look that's a little more summery than classic black or dark brown soles), which help it to feel that little bit more contemporary. While you'll find it in Snuff Suede or Dark Brown, we think the Earth Green Suede steals the show – and works a treat with dark denim or sand coloured chinos. Try a pair on the weekends for a casual boot that's just a little bit different without being brash.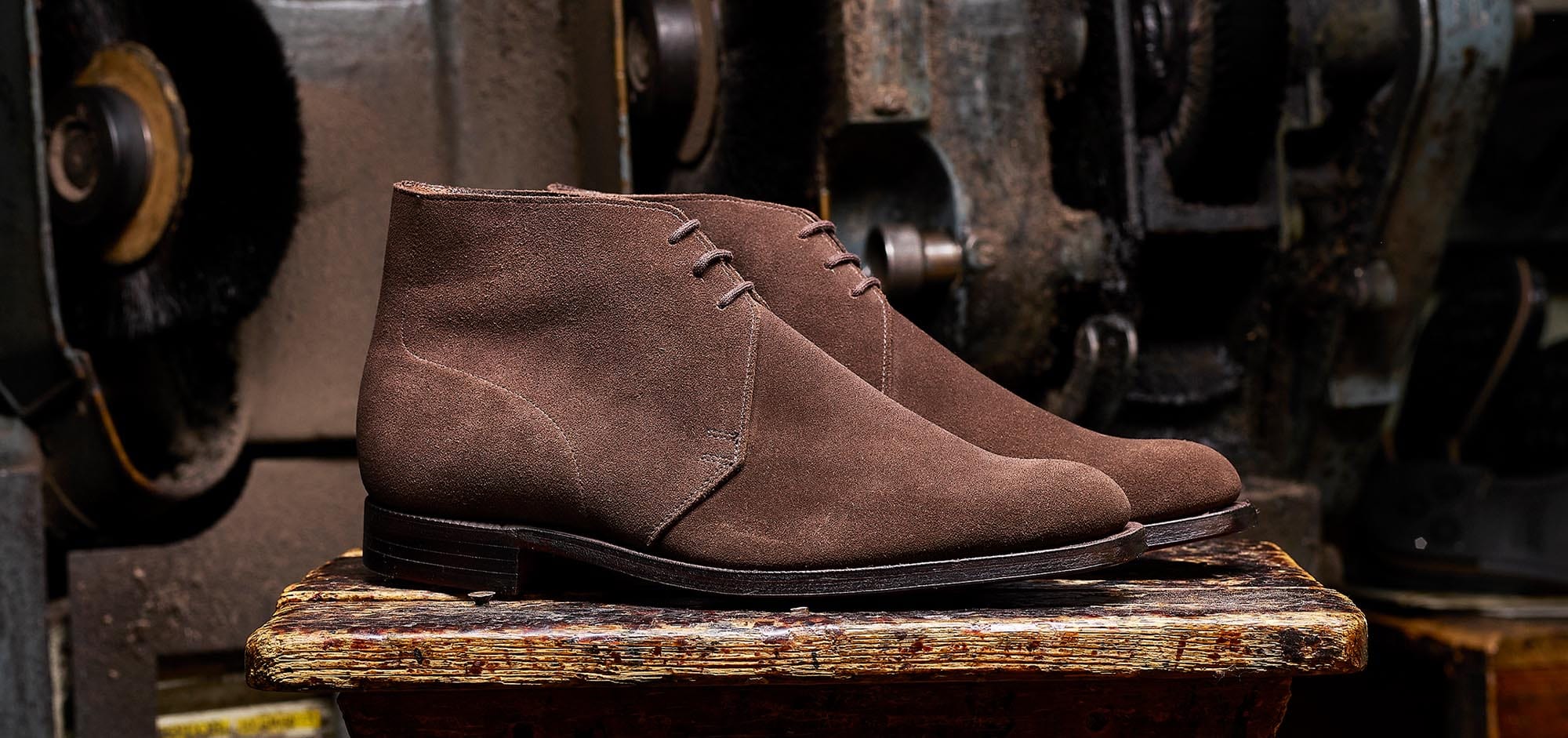 Speaking of distinctive colours, Sulgrave is new for the SS21 season and offers one of our sleekest boot silhouettes yet. Cut in versatile Khaki Suede, this contemporary take on a four-eyelet chukka sits on the shapely 379 last with almond-shaped toes and supportive, closely-clipped heels. Again, it's unlined for both comfort and lightness, and will sit comfortably beneath anything from dark navy or forest green cotton trousers to a tobacco linen suit. It's set on dark brown rubber City Soles and is equal parts understated and chic. Try it for a contemporary, fuss-free boot that'll look sharp no matter the time or place.
Bringing up the rear is Upton, our lined version of Sulgrave designed with the city in mind. As business dress codes grow ever more relaxed, you might consider a boot like Upton in a way that you simply wouldn't have five years ago. In polished Black Calf, or even in Dark Oak Suede set on rubber City Soles, Upton is a clean-looking, simple boot with restrained good looks – perfect with a blazer and separate trousers. Again, Upton is lasted on the 379, so shares Sulgrave's crowd-pleasing sleek profile.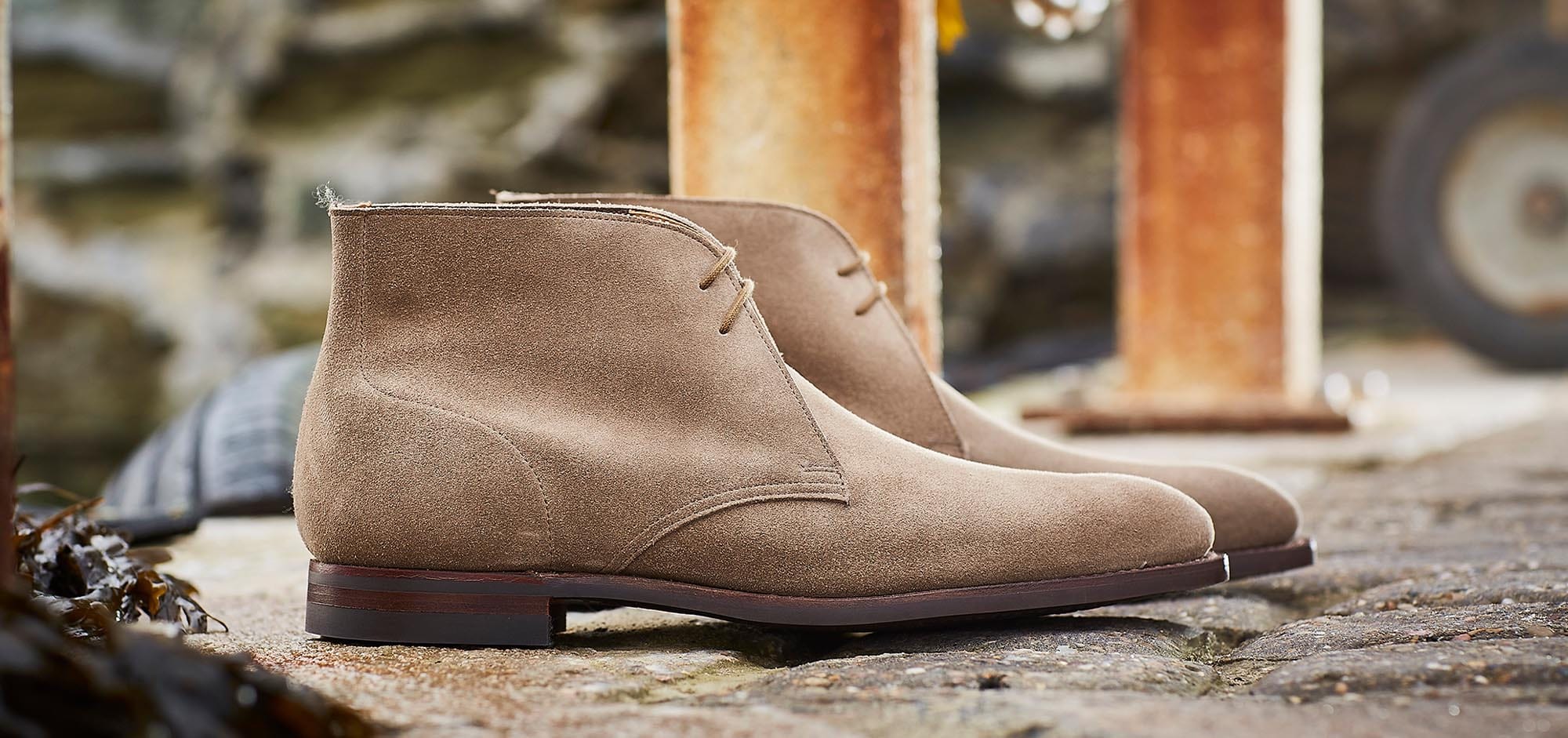 Not that we'll let lace-up boots steal quite all of the show, mind. Alongside this foursome of Chukkas, we also make the Cranton, our low-leg spring and summer-worthy Chelsea boot, lasted on the 377 with still more practical rubber City Soles. The 377 last is a steady evolution of the quirky 359 with an asymmetric, round toed and characterful silhouette. It's a shoe for minimalists, this; modern and simple with an unashamedly sleek silhouette. We offer the Cranton in Dark Brown Pebble Grain leather for the cooler months, but at this time of year, the Snuff Suede version is a great partner to navy chinos or else to off-white jeans. If minimalism is your thing, a low-leg Chelsea like this is a no-brainer to wear when the mercury rises.
The key to all these designs is the lightness of their construction. Unlined uppers, simple silhouettes and practical rubber soles contribute to a range of boots that won't feel substantially different to a whole-cut derby or even a suede loafer this season. Try a pair that takes your fancy and you might be pleasantly surprised.