Less a trend than something all men should call on come warm weather, nautical style is seldom out of fashion. Whenever summer rolls in (albeit often only briefly interspersed between grey skies here in London) I find myself gravitating towards elegant striped T-shirts, white canvas trousers and unlined loafers almost without thinking – and towards the odd cable-knit 'fisherman's sweater' when it clouds over too. Few summer uniforms are easier to get into, and few come with more enjoyable associations of 'Slim Aarons-esque' escapes to the Riviera and beyond.
Nautical style, of course, revolves around the time-honoured Breton stripe T-shirt. It varies in style, from crewneck to boatneck and from long-sleeve to short sleeve, but essentially it's a navy and off-white striped jersey T-shirt. Originally worn by mariners on the northern French coast, the best Breton tees today are still made in France.
Once you've sourced yourself the aforementioned navy and off-white T-shirt, you can play with the colours of your Breton shirts too. Olive or khaki and off-white is also chic, as is another favourite of mine, dusty pink and white. Any of these will work comfortably with white linen trousers, navy chinos or khakis alike, and of course, a Breton shirt will also work comfortably with a smart pair of tailored shorts.
With a backbone of T-shirts in my summer wardrobe, I tend to find that only a few other pieces are ever needed to complete the look. A fisherman's overhead smock or hooded parka serves to keep spring showers at bay, and simple navy or camel cable-knits (either crewnecks or cardigans) help to keep off an early morning or cool evening chill. If, like me, you feel comfortable in tailoring, a lightweight navy blazer or else a hopsack linen jacket with brass buttons layers comfortably over a striped T-shirt and chino combination too – perfect for smart-casual moments.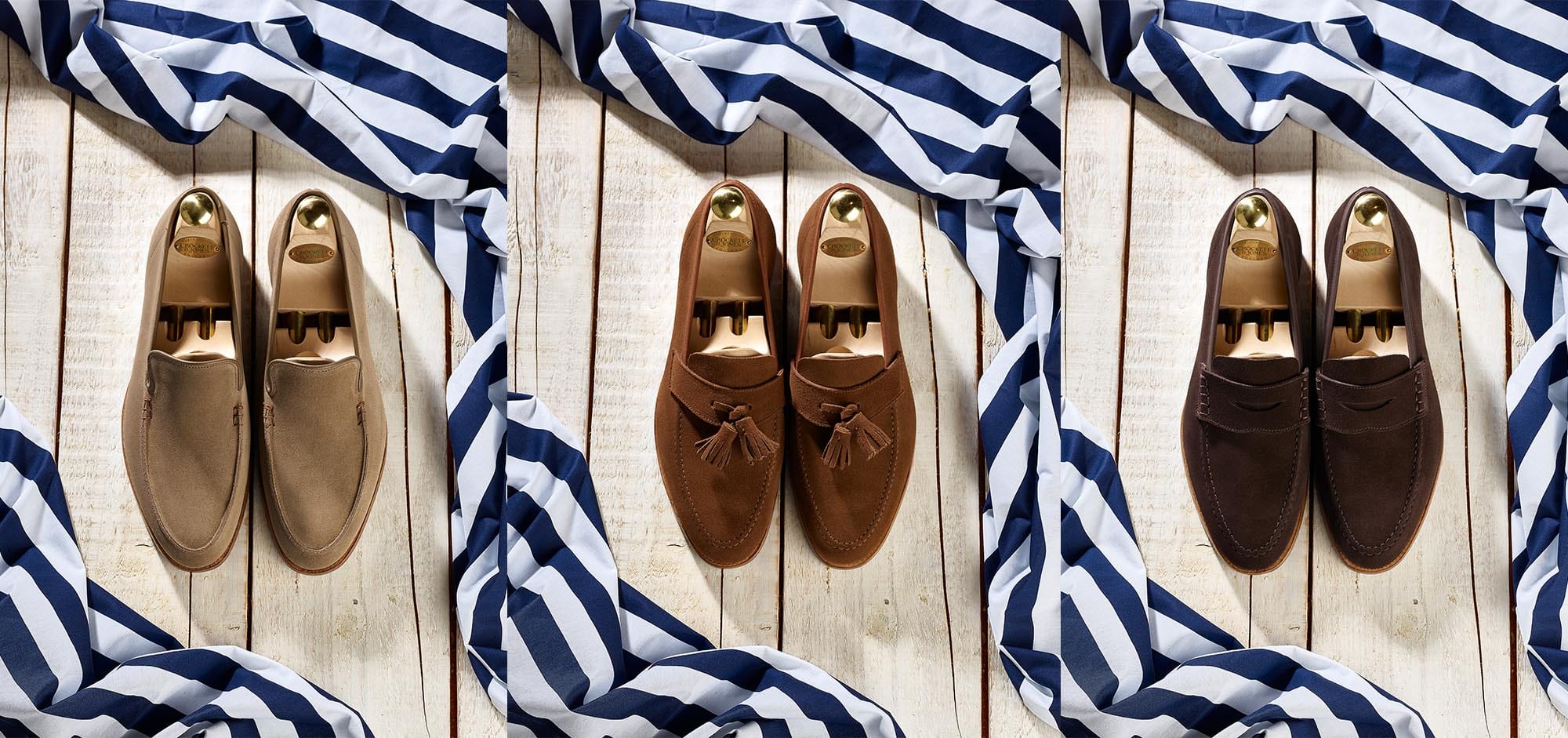 The one area of nautical style where I find myself torn is with boat shoes. While there are surely some stylish examples out there, I've always found them to be a bit naff (especially in navy – the need for navy shoes escapes completely, I'm afraid) so I would much rather recourse to a pair of comfortable, well-made Suede Loafers. Thankfully, this season, C&J's new and thoroughly impressive Unstructured Collection fits the bill perfectly, SUPERFLEX leather soles and all.
Get the look
Khaki Suede
I've waxed lyrical about these before but all you really need to know is that the SUPERFLEX soles are the most comfortable, springiest, lightest-weight leather Goodyear welted soles C&J have ever produced – the result of well over 18 months of painstaking development. The results speak for themselves; said trio of Unstructured loafers are both chic and seriously easy to wear. The Seaton is my personal favourite (chocolate brown suede penny loafers seldom fail to come in handy), but the Solent has a distinct nautical note to it care of its strap and tassel design. The Snuff Suede colour is suitably summery too.
There's also something very pleasing about the Salcombe Loafer, with its distinctive square tongue, raised apron seams and earthy Khaki Suede uppers. This is one to wear without socks, in my view, dressed with either roomy navy shorts or else with breezy, rolled-up trousers. Quite apart from being truly comfortable and easy on the feet, these loafers are altogether better-looking than deck shoes – and you'll get more wear from them too.
So, for an easy wardrobe upgrade this summer you could do worse than to dip into nautical style. From striped sweaters to navy blazers, or from pleated shorts to suede slip-ons, you can think of Riviera-worthy menswear simply as a fresh, seasonal spin on tried-and-tested wardrobe staples. It's seldom complicated and it's always elegant. All you need now is the yacht…