There was a time when, in the city of London, if you'd worn suede shoes into your office – Oxfords or not – you'd have been sent home in disgrace. Our retail teams used to hear horror stories of thrusting young city slickers having the tassels cut off their suede Cavendish loafers by un-impressed bosses, or else pints of bitter being deliberately poured over brand new suede lace-ups by scornful colleagues after hours. Thankfully, times change, and as we return to the office slowly over the course of this year, few shoes are better suited to a modern 'business casual' dress code than brown suede Oxfords.
First up on our list of 'smart but not too smart' recommendations is a shoe that is in many ways the Prince of Oxfords, Westbourne. This is one of relatively few shoes in our collection available in Dark Brown Calf Suede, which is extra-fine in quality and velvety smooth to the touch. Westbourne, with both its calf suede uppers and its remarkable 348 last qualities such as its supportive waist and soft square toes – there is a definite luxury look about it. Sporting its rubber City Soles, U-shaped throat and semi-broguing, Westbourne is a fitting partner for suits or separates alike. Try it with a soft-tailored navy blazer and fitted grey flannel trousers for a handsome look.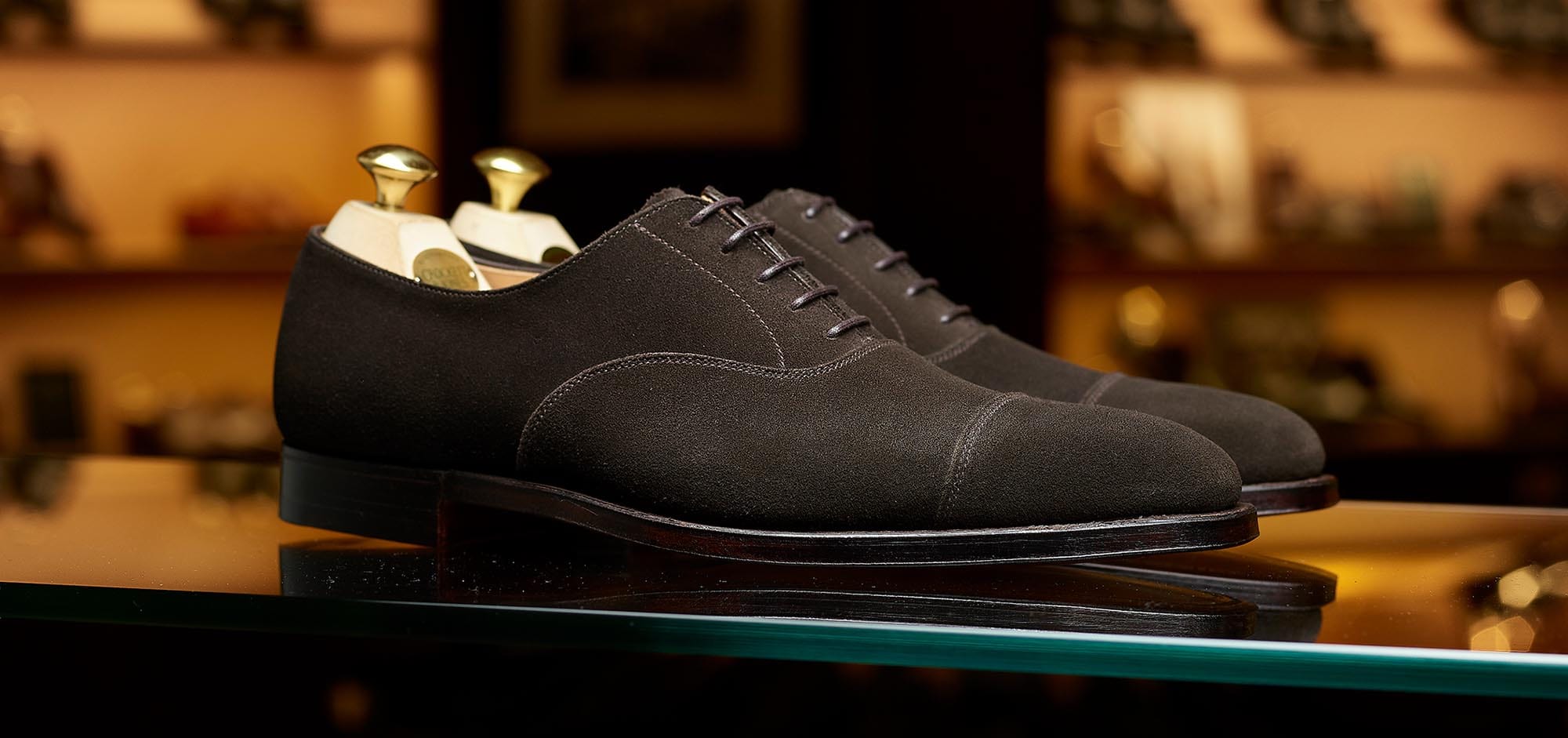 Then comes the Hallam, our toe-cap Oxford in Espresso Suede, which is the darkest dark brown material we offer. It goes particularly well with English navy or else soft mid-grey tailoring, but also looks great with washed chino and blazer combinations. Hallam is the simplest of the designs we're recommending in this story with its plain punched stitched caps, perfect for the purists among you. As with Westbourne, it also benefits from the 348 last, with its contemporary lines and pleasing, shapely toes.
If minimalism isn't your thing, then the maximalism of a full-brogue might appeal. Here too, we've got you covered. Westgate 2 is a refined version of our traditional Westgate full-wing brogue, which is likewise available in Dark Brown Suede. There's a timeless quality to Westgate – its wing-tip design and curvaceous last (the 379, which according to Jonathan Jones "Cannot be improved upon") combine to produce a brogue that really will go the distance. It's the kind of shoe that looks sharp beneath a dark suit in the winter, but has a subtle art deco quality in warm weather; paired with a classic summer suit in cream or sandy-coloured linen and a sky blue shirt.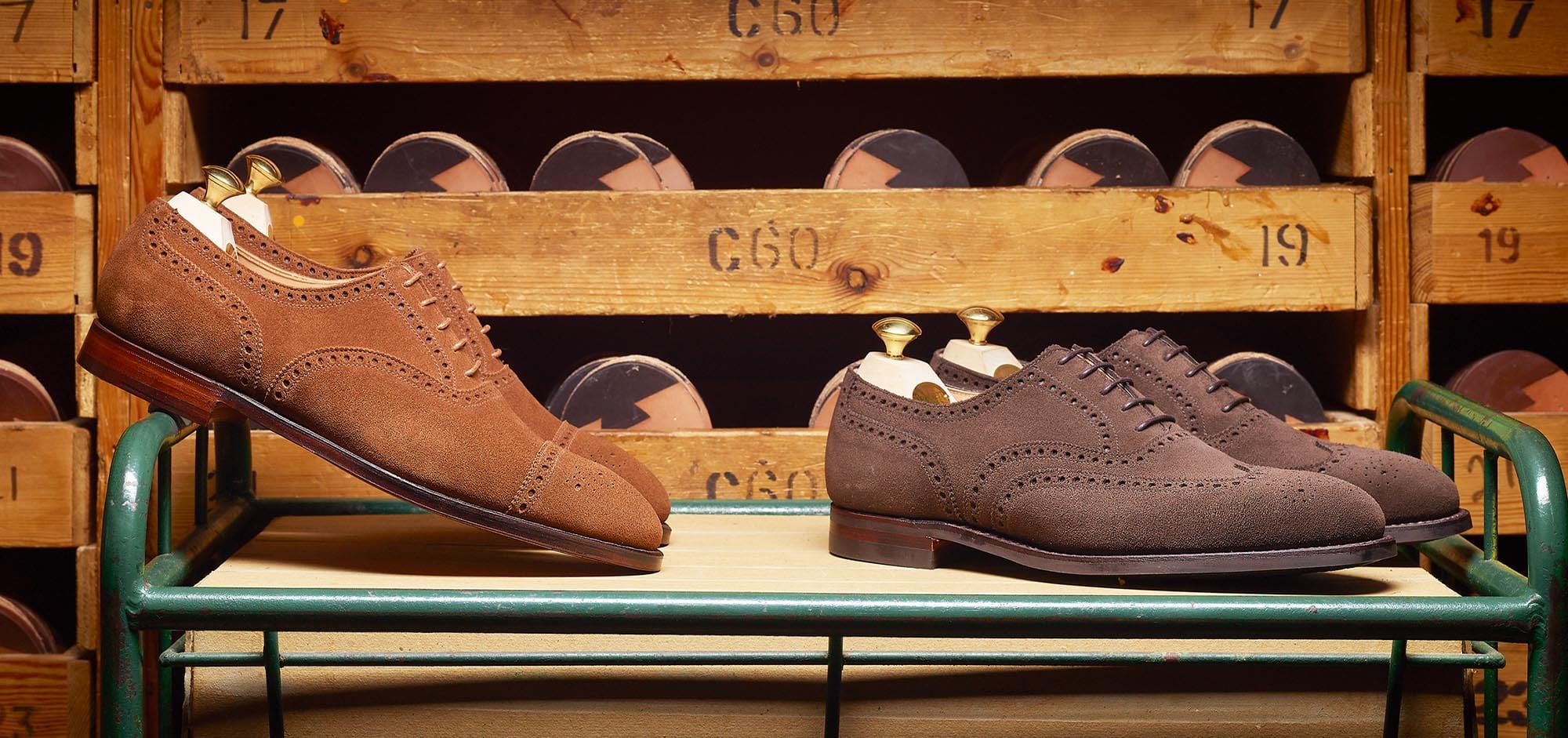 Finally, for those who've covered off dark brown and are searching for something a little different, you might also consider the Westfield in Tobacco Calf Suede; a round-toed semi-brogue that's every bit as wearable as the Westgate 2 or Westbourne. The tobacco colour is a bit more relaxed than dark brown, but can look just as smart dressed with a well-cut jacket and chinos. It's also perfect for this time of year, as spring gives way to summer and lighter tones come into focus. In contrast to our other trio of shoes, the Westfield is lasted on the 341, which we like to think of as 'round, but not too round', with classic English shoemaking appeal. For a thoroughbred semi-brogue that'll take you almost anywhere in style, you'll struggle to do better!
Get the look
Dark Brown Calf Suede
Tobacco Calf Suede
Of course, there's one other thing to consider as you eye up a new pair of suede Oxfords; they're the perfect smart-casual off-duty shoe too – easily swapped into your wardrobe rotation in place of weekend loafers. Dark Brown or Tobacco Suede shoes pop against dark denim or complement ecru jeans alike, and are perfect with fun coloured socks. One benefit of this new 'hybrid working' landscape is that there's less pressure to be 'formal' or to have a clearly defined working wardrobe, and if that means you can enjoy your C&J shoes in lots of different contexts, then we're all for it!