It's been a long old haul to get to this point, but in the UK at least things are starting to look reasonably optimistic with regards to COVID-19. The sun is shining, lockdown is easing and the most hallowed of Great British institutions, the pub, reopened last week.
Of course, not everything about lockdown lifting is necessarily enjoyable and whether you're desperate for a change of scene, or you'd rather continue to work remotely, a return to the office is now on the cards for many of us. With this in mind, we thought we'd take some time to suggest some shoes to see you appropriately dressed on your return to work.
There can be little doubt that the pandemic has accelerated the long-running trend towards smart-casual and notably business-casual dress codes – away from traditional suits and ties. Formal chalkstripes and three-piece suits have felt challenging for a while now, and post-pandemic it seems that this trend is unlikely to change. So, what to wear with your back-to-work blazer and chinos?
Loafers are an easy solution, not least because as the perfect 'smart-casual staple' you'll get as much wear from the right pair off-duty, as you will at work. Of course, when it comes to office dress polished black calf is traditional and you'll find our classic Boston, Cavendish and Sydney loafers are all available in Black Calf or Black Cavalry Calf accordingly. Beyond this most classic of materials, though, lies a world of un-tapped possibilities, even in three of our best-loved styles.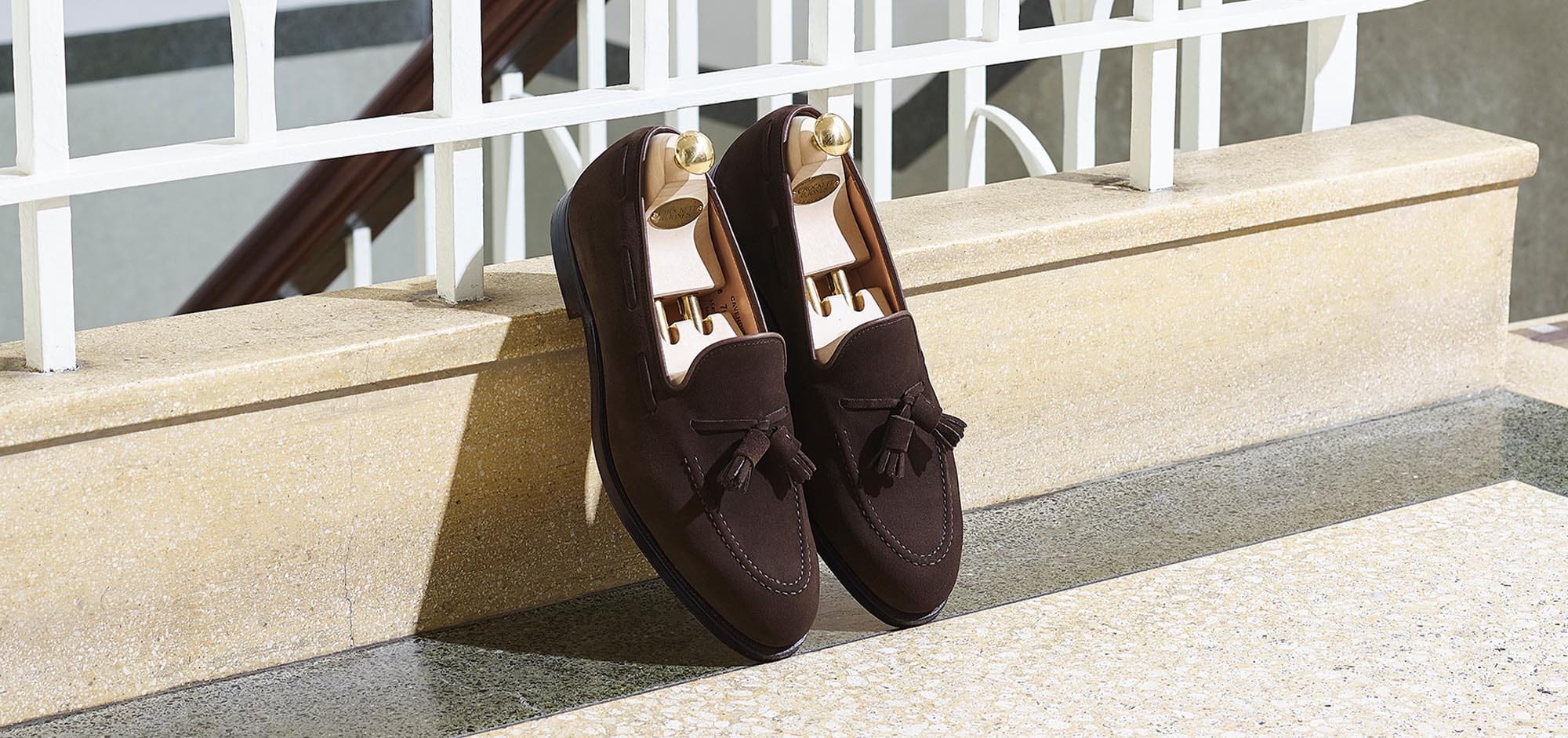 The first, obviously, is Dark Brown Calf. Ten years ago, dark brown shoes worn into the office might be met with some skepticism, but not these days. Dark brown leather often works better with smart-casual outfits (particularly with chinos or separate trousers in warm colours like sand, RAF blue or forest green) and whether you prefer Boston's rounded toes, Sydney's almond-shaped 341 last, or the well-balanced proportions of Cavendish, each model will slot seamlessly into your working wardrobe.
As well as classic calf, Boston and Cavendish are also available in Dark Brown Grain. Don't be put off by the name – Dark Brown Pebble Grain or Country Calf leather is so versatile it'll take you from the city to a weekend visiting friends out of town, no problem. The leather's subtle texture adds interest to an otherwise polished look. On that note, Dark Brown Suede is plenty smart enough for business-casual too and works well as a year-round material – and is every bit as easy to wear.
This is where Cavendish comes into its own. Alongside the aforementioned Dark Brown Suede, you'll also find Cavendish in Polo Brown and Black Calf Suede too. These both make sophisticated statements in different ways. Polo Brown Calf Suede looks great with dark indigo denim (perfect to pair with a blazer or chore jacket and jeans), while Black Calf Suede is the rebellious relation of classic Black Calf and looks great with charcoal or soft grey tailoring. We'd highly recommend Cavendish in Black Calf Suede for an office-appropriate loafer that's a little different, but still understated.
We also design these three signature loafers with seasonality in mind. As the weather warms up, you might contemplate the unlined versions of Boston (the Harvard 2) and also Sydney (the Teign), which are that bit lighter, more comfortable and breathable too. If you like your working wardrobe to be consistent you can wear dark brown suede Bostons or Sydneys during the cooler months and simply swap to the unlined equivalent at this time of year – a clever trick to keep you cool year-round.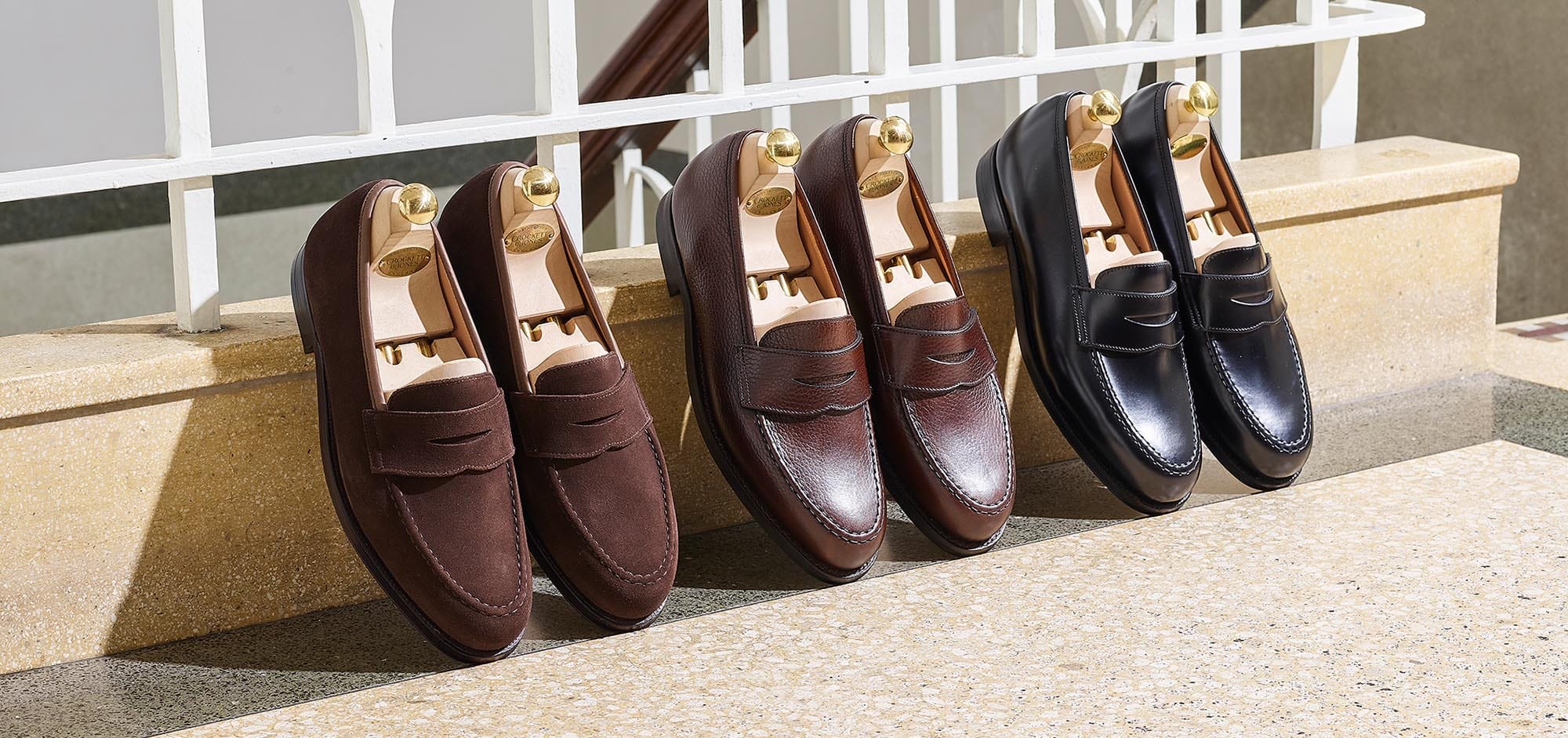 One final word should go to Shell Cordovan too. Fashion historians have debated for decades whether the material was originally perceived to be formal or casual, but we've no interest in falling victim to anachronism. The Harvard in Dark Brown Cordovan is a fantastic loafer – understated, elegant, and one to wear either with or without socks as the mood takes you. The same can be said of Cavendish in Burgundy Cordovan; our English riposte to the classic American Ivy League loafer. Burgundy Cordovan is a natural partner for navy and dark blue tones. Try it with a navy suit, or else with a blue blazer and grey fresco trousers.
We hope these thoughts have helped you to see three of our most popular shoes in a new light, but it's also worth thinking about some of our other loafers too. The Selby is a recent addition to the collection that's perfect for business dress. Grantham 2 and its unlined equivalent, Richmond 2, have a certain smart appeal with their pulled-up aprons. That's to say nothing of our Hand Grade Collection, within which the Harcourt, Crawford, Cadogan and Vincent 2 each offer an unparalleled fit and superior quality for the true connoisseurs among you.
When dress codes change it's the little things that make a big difference; moving from a Penny Loafer to a Tassel Loafer, or from Black Calf to Dark Brown Suede might sound inconsequential, but it's a subtle step-change that will help your working wardrobe adjust to our 'new normal', 'smart casual' reality. Try one of these three classic styles in a new material, and you'll be hard-pressed to put a foot wrong.