Consider Sean Connery's introduction to cinema audiences at the casino in Dr No where he is revealed at the card table wearing a midnight blue shawl-collar dinner suit, or the scene in Goldfinger where he strips off a waterproof suit to reveal a pristine white dinner jacket underneath.
George Lazenby's solitary outing in On Her Majesty's Secret Service, saw him continue Connery's preference for midnight blue. Indeed, this classic single-breasted, peak-lapel dinner suit has continued as a perennial Bond favourite — both Pierce Brosnan and Daniel Craig's Bond have preferred this style.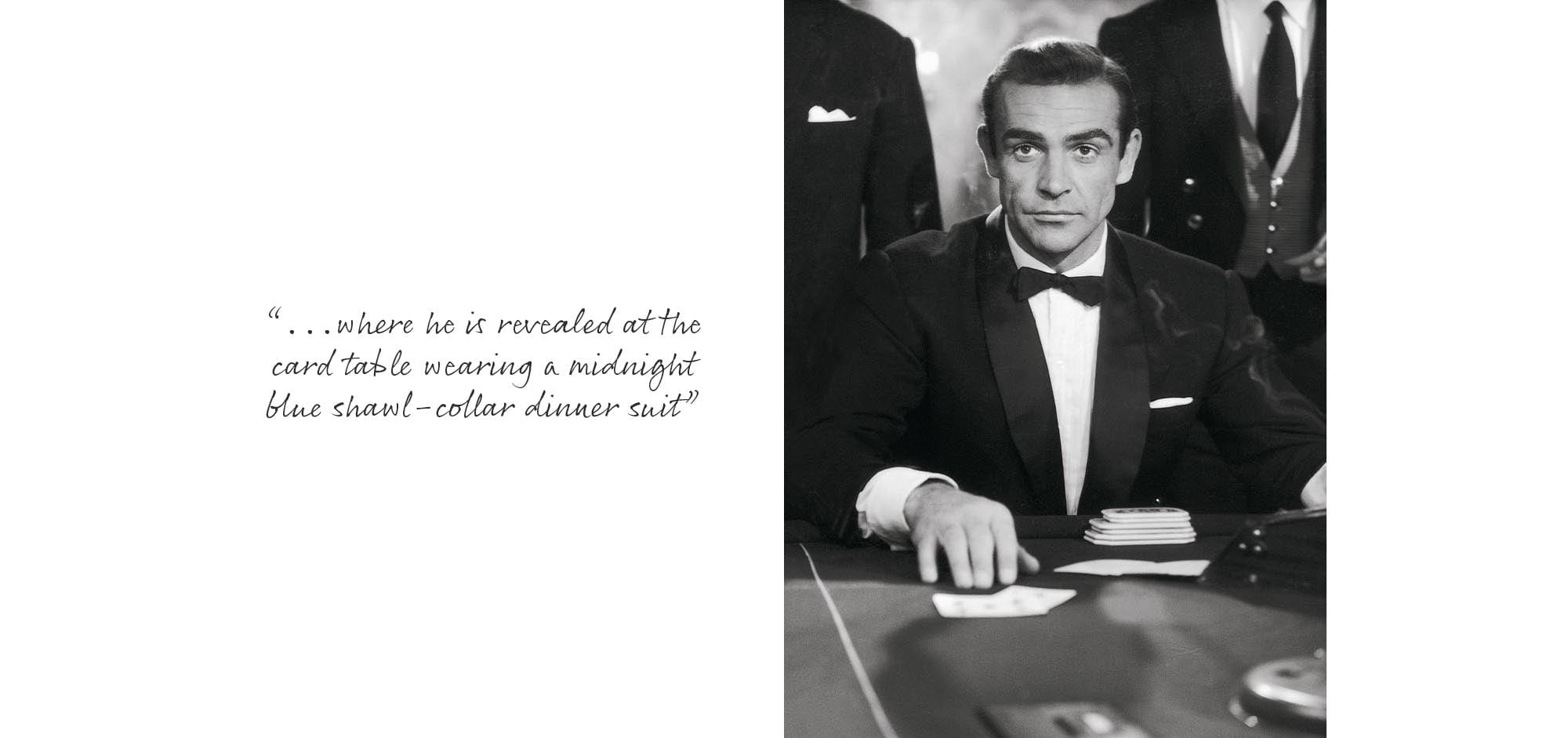 Roger Moore, working through the 1970s and early 1980s was subject to different trends but he too always wore his tux with panache — perhaps most famously during the memorable Egypt scenes in The Spy Who Loved Me where, again, his immaculate outfit is midnight blue.
It was The Spy Who Loved Me that introduced the tux to the 007 films' gun-barrel sequence, which further boosted Bond's evening wear as his signature look. By the time Vesper Lynd presents Daniel Craig's Bond with his tuxedo in Casino Royale, she is doing more than handing him a dinner suit.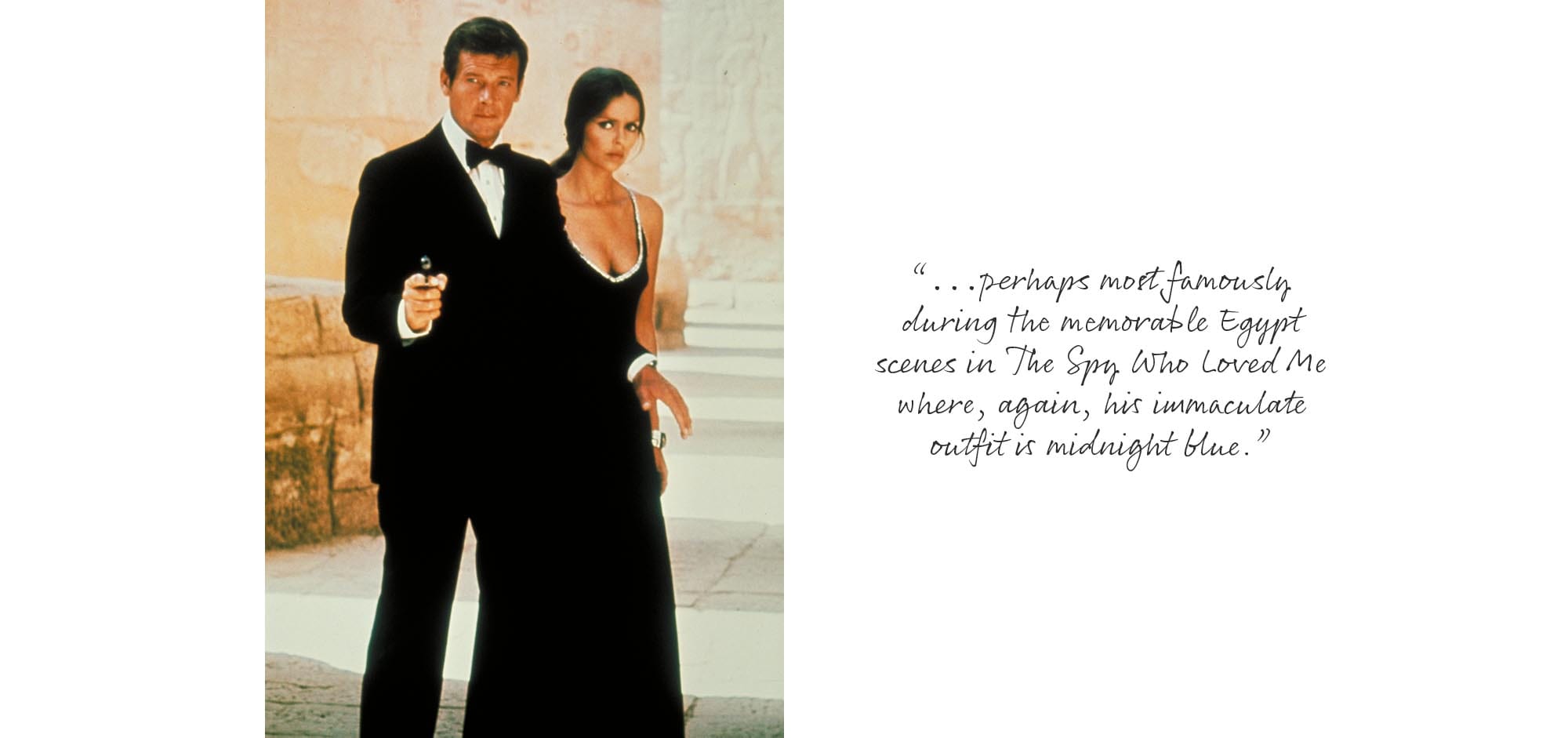 Not surprisingly, the importance of the tux was at the forefront of the filmmakers' minds when designing the costumes for the latest Bond film, the 25th official instalment in the franchise, No Time To Die.
The film's costume designer, Suttirat Anne Larlarb, paid special attention to the history of Bond's formal attire — revisiting the tuxedos each Bond had worn in all the films to date. She then studied the outfits that Daniel Craig has worn in his 007 films, paying special attention to the actor's physique.
She wanted to ensure that the tux — designed by regular 007 collaborator Tom Ford — reflected, and complemented, Craig's current form. Special attention in particular, was paid to the width, shape and length of the lapel.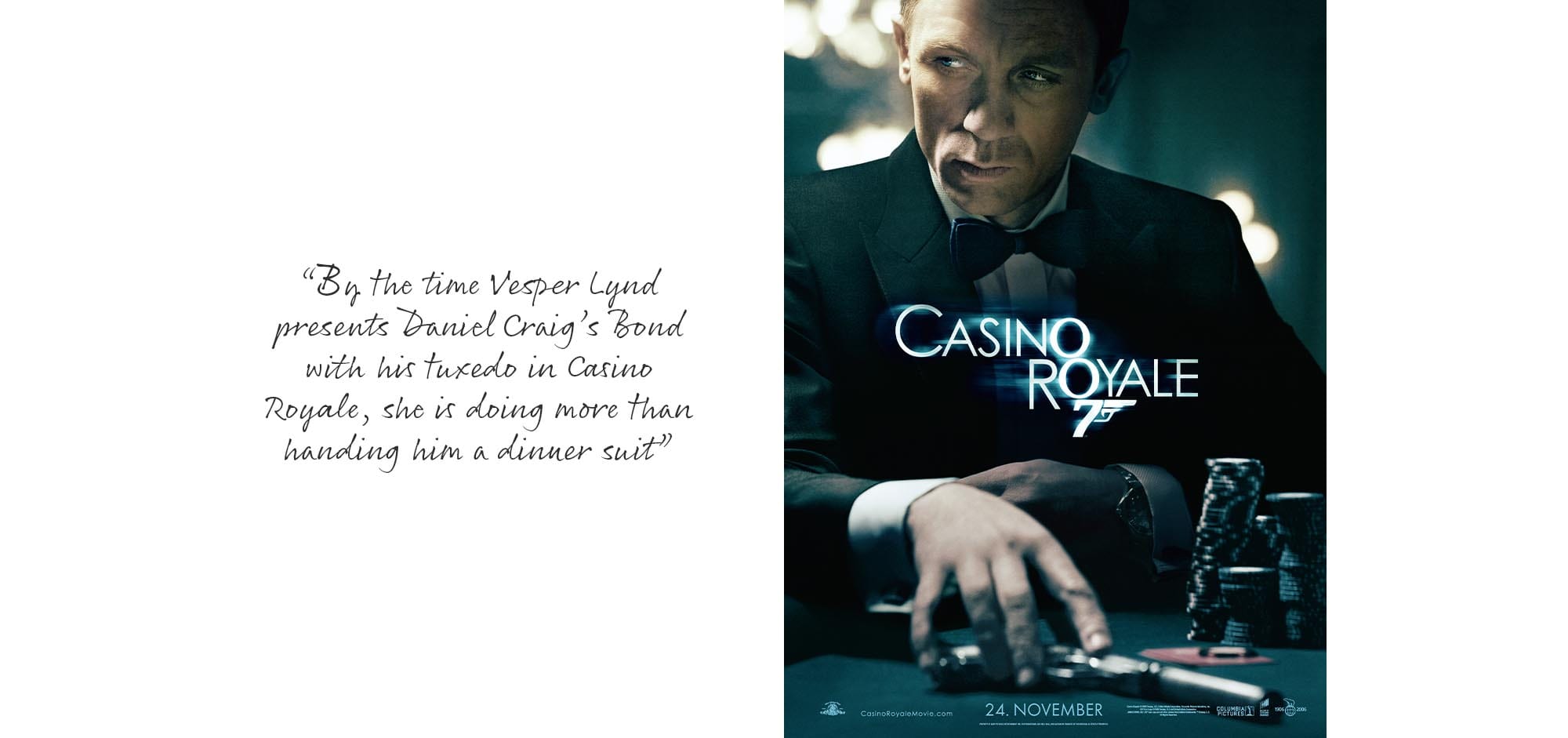 However, the costume designer goes on to note that the "unsung finishing touch" to any formal eveningwear is the right pair of shoes. Depending on the footwear, the wearer stands, walks, and behaves differently.
James Bond is known for his elegant yet masculine comportment in all situations and Larlarb says that she was delighted to work with Crockett & Jones to ensure that this important aspect of Bond's eveningwear was perfectly styled. Larlarb was fully aware of what separates a good custom-made shoe from the perfect, and she describes Crockett & Jones' lasts as "perfect".
"Each and every piece that comprises a Bond costume is the result of a careful and relentless design and decision-making process," she says, "and for certain key elements this involves collaborating with select brands that feel authentic not just to the aesthetic legacy of Bond, but that serve the particular technical and practical requirements of the character in action. Working with Crockett and Jones to achieve the custom shoes we needed was an absolute pleasure.
"I knew from the moment I took on the role of costume designer that I was inheriting a very heavy mantle of responsibility in maintaining the tradition that defines the character of James Bond," she adds. "But I also was mindful to help push him forward into the future."
Larlarb's meticulous approach to her work has been honed over an impressive career. Born in 1971, the American costume designer has vast experience across many forms of media and is also an Associate Professor in Costume Design at Carnegie Mellon University in Pittsburgh, Pennsylvania.
She joined the crew for the latest Bond film when Danny Boyle was set to direct, having worked with the British filmmaker on a whole host of films - The Beach, Sunshine, Slumdog Millionaire, 127 Hours, Trance and Steve Jobs – as well as on his theatrical production of Frankenstein and on the 2012 Olympics opening ceremony in London.
Her experience proved vital. Being a costume designer on the world's longest-running film franchise is a mammoth logistical challenge given the number of important characters, the need to manage multiple costumes and the requirement to organise hundreds of repeat outfits. The Tom Ford tux, for example, required 33 repeats.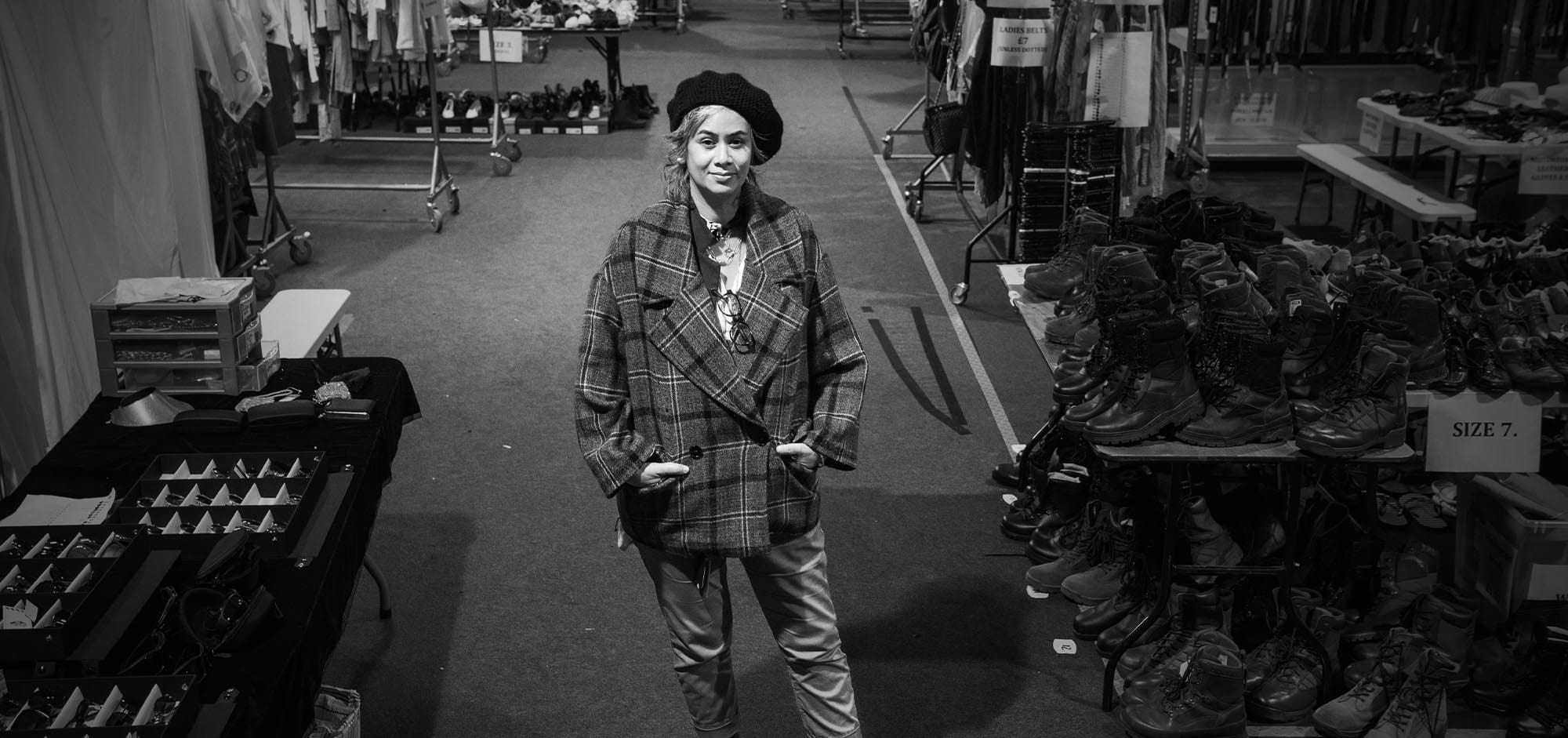 BEYOND THE TUX
There is, of course, more to Bond's wardrobe than his formal garb. Everything he wears gives insight into his character. When he walks into a room he has to be immaculate, sharp but also very subtle. He has to be elegant and yet understated. He is the epitome of the on-screen spy.
From the moment Ian Fleming dressed him in his favourite dark-blue, single-breasted suit with a four-in-hand (never a Windsor) knotted tie, Bond redefined the image of the spy. Before 007, the archetypal secret agent was shrouded in a long coat and wide-brimmed hat. Bond changed all that.
In No Time To Die, for example, even when he has retired from active service in Jamaica and is enjoying a more sedate life in casual dress, he still displays an intuition about style. Though he doesn't think about it too much, it's always there.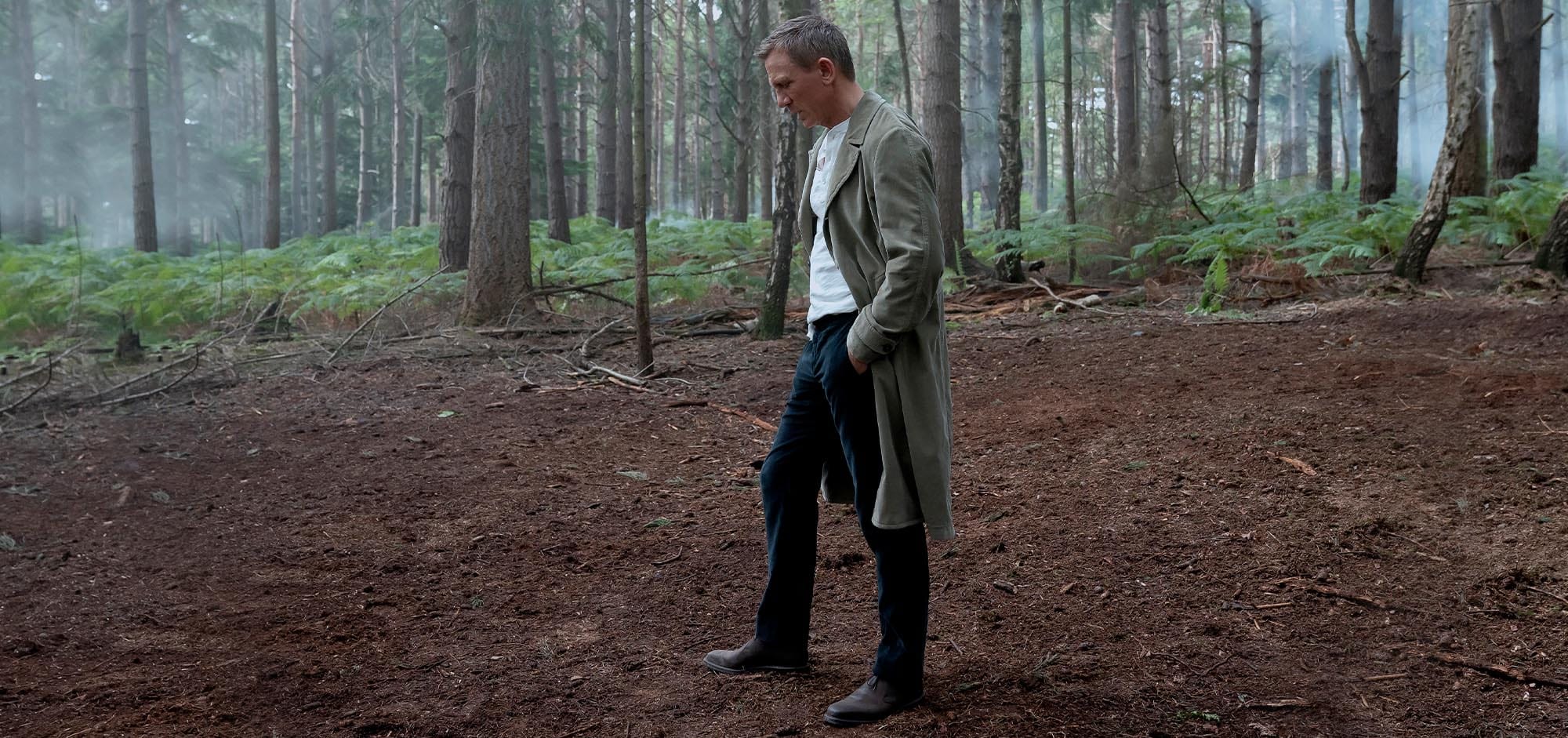 "Everything he owned we wanted it to feel like it wasn't thought about," says Larlarb ."We liked the idea of a silhouette, so that you are not distracted by patterns, shapes and design details so much.
"He feels like a silhouette, and because Jamaica is such a hot tropical country, we knew it needed to be something a little looser, but still fitting to show off that wonderful physique."
That silhouette also played a role when dressing Bond for action. Larlarb worked with N.Peal to design Bond's navy ribbed army sweater, which he wears for a pivotal action sequence. "We agreed that there should be something definitive, something that could be practical for the mission at hand," she says of the design.
"It had to be utilitarian and authentic, but also definitively Bond-esque with a strong, iconic and masculine silhouette, a touch of the past and a sophisticated nod to his own military background. I hope we've done something special with all Bond's costume on this film, and thrown down the gauntlet for the next one."
Words by Will Lawrence. Will is a freelance writer and journalist. He has contributed to the daily and Sunday editions of The Times and The Telegraph as well as The Guardian, The Observer and The Financial Times among many others. He writes extensively on the Bond series and is the co-author of James Bond's DB5, the definitive story of 007's iconic car, and also wrote Blood, Sweat and Bond: Behind the Scenes of Spectre and The James Bond Film Guide.
NO TIME TO DIE © Danjaq, LLC and Metro-Goldwyn-Mayer Studios Inc. All Rights Reserved.
CASINO ROYALE © 2006 Danjaq, LLC and United Artists Corporation. All Rights Reserved.
THE SPY WHO LOVED ME © 1977 Danjaq, LLC and Metro-Goldwyn-Mayer Studios Inc. All Rights Reserved.