At Crockett & Jones, we are constantly producing hundreds of different types of shoes & boots, and beyond these our archives contains multiple thousands of historic designs that have breezed in and out of fashion over the countless decades; from obscure lace-ups, to unusual loafers or even a few rather distinctive looking faux-leopard skin demi-boots that we keep firmly hidden from view!
Sometimes though, it pays to go back to basics. In this first half of our English footwear style guide, we introduce the various different types of shoe we make today with their overarching characteristics, and give some pointers on where they might fit into your wardrobe too. So, without further ado, here's our English footwear style guide. We hope it's useful.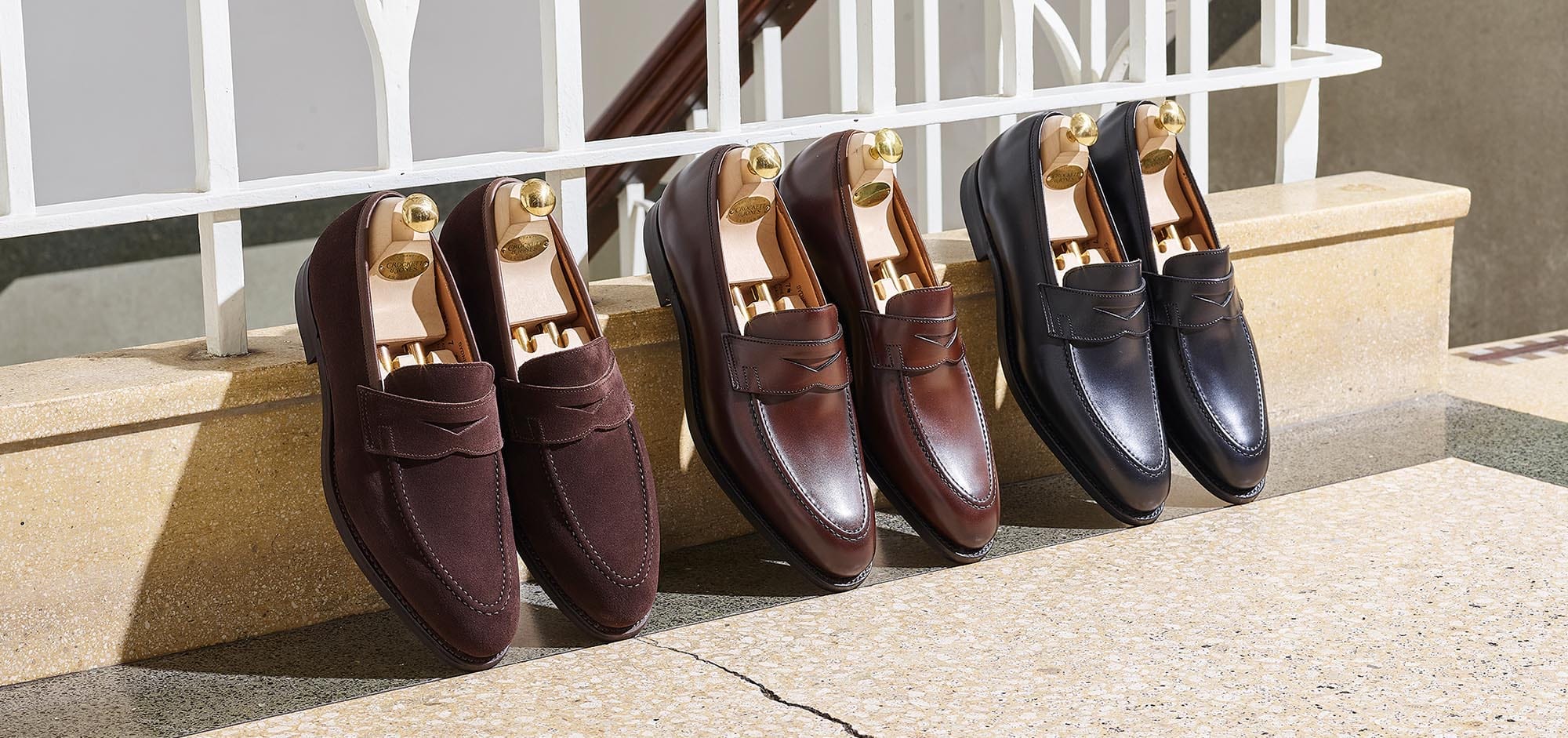 Loafers
In today's increasingly casual world, the humble loafer is perhaps the most indispensable shoe you could wish to own; comfortable all year round, and versatile enough to dress up or down. Of course, your choice of material and finish will determine just how formal the loafer is; suede is better suited to smart-casualwear and to the warmer, drier months, and our full-grain leathers benefit from rugged country-going styling. Smooth calf is perfect for wearing around town, and for formalwear. Unlined loafers come into their own in summer, being a little lighter and more flexible and breathable in the heat. Our guest editor, Aleks Cvetkovic, lives in Crockett & Jones loafers, and generally prefers models finished with our dependable rubber city soles. 'I was sceptical to try rubber soles at first,' he says, 'but come rain or shine, I know I can depend upon them – they're comfortable, reliable and I think even more useful than classic single leather soles.'
We offer a variety of loafers in the collection today, from the classic penny loafers (these work well with suits and separates), to the loafer of the moment Cavendish, our favourite tassel loafer. Much like Oxfords and Derbys there are a multitude of variations within the loafer style category: Wing-caps, long-wings, split-toe, butterfly, saddle, Alberts... The list is almost endless.
Oxfords
The humble Oxford shoe is a timeless classic, equally at home worn to the office or on the weekends. With a history dating back over 200 years, it is said to take its name from the students at Oxford University, who were early adopters of the style. It differs from the other classic English lace-up shoe, a Derby, thanks to its 'closed' lacing system, whereby the inside and quarters are stitched underneath the shoe's vamp, and the tongue is stitched in beneath them in turn. Thanks to this construction method, Oxfords present a clean, polished appearance across the bridge of the foot, hence why they're the ubiquitous choice to wear with tailoring and formalwear.
As one would imagine, we offer an in depth range of Oxfords to wear in both smart and casual contexts, and they're firm favourites of our customers and guest writers alike. Christopher Modoo always says that classic black Oxfords are 'the first pair of shoes every man should own', while Bernhard Roetzel first stepped into a pair of our Oxfords over 30 years ago, and is an advocate of both our classic black and chestnut calf variations to wear with tailoring, and tan suede models for casualwear.
Derbys
Derby shoes are the older, and slightly more relaxed cousin of Oxfords. Essentially, they're lace-up shoes cut with an 'open' lacing system, whereby the quarters are stitched over the shoe's vamp, meaning that the laces are more visible across the bridge of the foot. This also means that they are a touch less dressy, but no less versatile. A brogue derby or a Blucher (we make variations on both), are historically associated with rugged country wear, and make for excellent walking shoes. When set on robust Dainite rubber soles they work well as a slightly more fashion-forward choice too, perfect paired with rolled up jeans or tapered chinos on the weekends. Look to our guest writer, Charlie Teasdale, Style Director of Esquire UK, for inspiration...
We also make Derby shoes in our English tanned split-suede for a chic smart-casual look. Plus, our split-toed Derby - BALFOUR - (with hand stitched front toe seams) is about the most time consuming and complex shoe we make. Our factory is home to one hand-stitcher who spends his days delicately hand-finishing all these Derbys – it's a skill we're proud to be keeping alive.
Chukka and Derby boots
These, unsurprisingly, are a close relation to Derby shoes, designed with the same open lacing system. There's a good reason for this: the design translates well into exceptionally comfortable ankle boots, as the laces can close naturally around the top of the foot for extra support and a close fit. The Chukka boot's name is a hangover from its sporting origins. 'Chukka' is a nickname for the first seven-and-a-half minutes of a polo match, and the sport's aristocratic players used to slip straight into a pair of soft suede chukkas after a game spent in their stiff, high-leg riding boots.
Chukkas are generally unlined and sometimes set on soft rubber or crepe soles, but the Derby boot proper is fully lined, cut with a higher stance to wrap around the bottom of the shins, and usually of a more substantial, storm-welt construction. We tend to make our Derby boots in robust grain leathers for a timeless casual look, but waxed calf, and even Russian grain models are available too!