Confused and slightly worried as to why a gentleman would be contacting a 134 year old, Northampton based, Goodyear welted shoe manufacturer to take part in a 555 Kilometre trek across Greenland's ice cap, we read on:
"2014 marks the 100th anniversary of Shackleton's famous 'Endurance' expedition. To celebrate this anniversary, one twin will be using replica kit and clothing which Shackleton used 100 years ago, whilst the other twin will be using the latest in modern technology and clothing."
Ross Turner, one half of the 'identical' Turner Twins had discovered there was a distinct possibility that Crockett & Jones manufactured the boots worn by Sir Ernest Shackleton during the epic - 1914 'Endurance' expedition to Antarctica. Luckily Ross was not recruiting for his trek…
Following a tragic accident to his brother, Hugo, back in 2007, the twins have dedicated a huge amount of time and effort to Spinal Research. So far raising £250,000 for the charity by rowing across the Atlantic Sea, they intend to considerably add to this with their latest endeavour..
Passed down through five generations of family management was talk of our involvement in the development of a boot that would survive the dreadfully low temperatures of the Antarctic. Unfortunately these boots were only ever stamped 'Made in Northampton' but the tie was strong enough for Ross to contact us and begin his own development with Crockett & Jones, perhaps in the same show room that Shackleton once sat in himself.
Jonathan Jones, current Managing Director of Crockett & Jones, quickly saw a determination in Ross that was simply remarkable and after a short discussion it was clear that Crockett & Jones, possibly for the second time, would be working together with an inspirational individual.
One question remained… What style was it to be Mr Turner?
The developments begins - For Question Greenland, Ross required an adaptation of our sturdiest, most water resistant boot available. Snowdon. For this style, we use the Veldtschoen construction method turning the upper leather outwards and over the welt allowing water to run away, giving a higher level of water resistance to the boot. We developed a full 'Bellows' tongue to stop ice getting into the Derby boot through the facing tabs. Finally, not only have we fully lined the boots, but we have included, at Ross's request, a 'Shearling' collar to stop ice getting in from the top of the boot. If they perform as well as they look, Ross is in safe hands!
Both Hugo and Ross are attempting to raise £305,000 for Spinal Research, and they need all the help they can get! If you would like to support their incredible effort please follow this link - Support The Turner Twins
If you would like to read more about their chosen charity Spinal Research, and reason behind why they chose it, please visit their Spinal Research page.
Crockett & Jones are very proud to be a part of Question Greenland and wish Ross and Hugo the very best for the coming months.
Get the look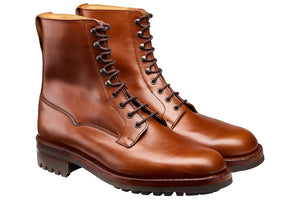 Oak Wax Hide