Before we get into the emotion behind how great suede looks, there are a couple of off the bat practicalities that need shouting about:
1) There is Suede, and there is Suede! Crockett & Jones uses the latter.
2) Preparation is the key to longevity (with ALL leather)
Why do some customers think that suede is purely for the summer months?
Firstly, we believe this anomaly is to do with its visual appearance. It looks absorbent, it looks delicate, it looks like something that should be worn indoors. It's not! On the contrary, but we'll get to that later. Then you have your calf or calf grain boots staring at you, screaming "wear me instead". Calf has a shiny surface, a more robust looking material that must be more water resistant. Out they walk…
Secondly, what happens if you do decide to reach for your suede Chelsea boots, get brave, venture out and the heavens open! How do you care for something so soft, so delicate? Calf only needs a quick wipe down and another polish… Read on…
We'll tackle this hearsay together because ultimately it boils down to one thing: If the cats 'n' dogs fall, and in horror you look down to see a pair of dripping wet suede Chelsea boots, what is going to happen? The simple answer is; they are going to get wet!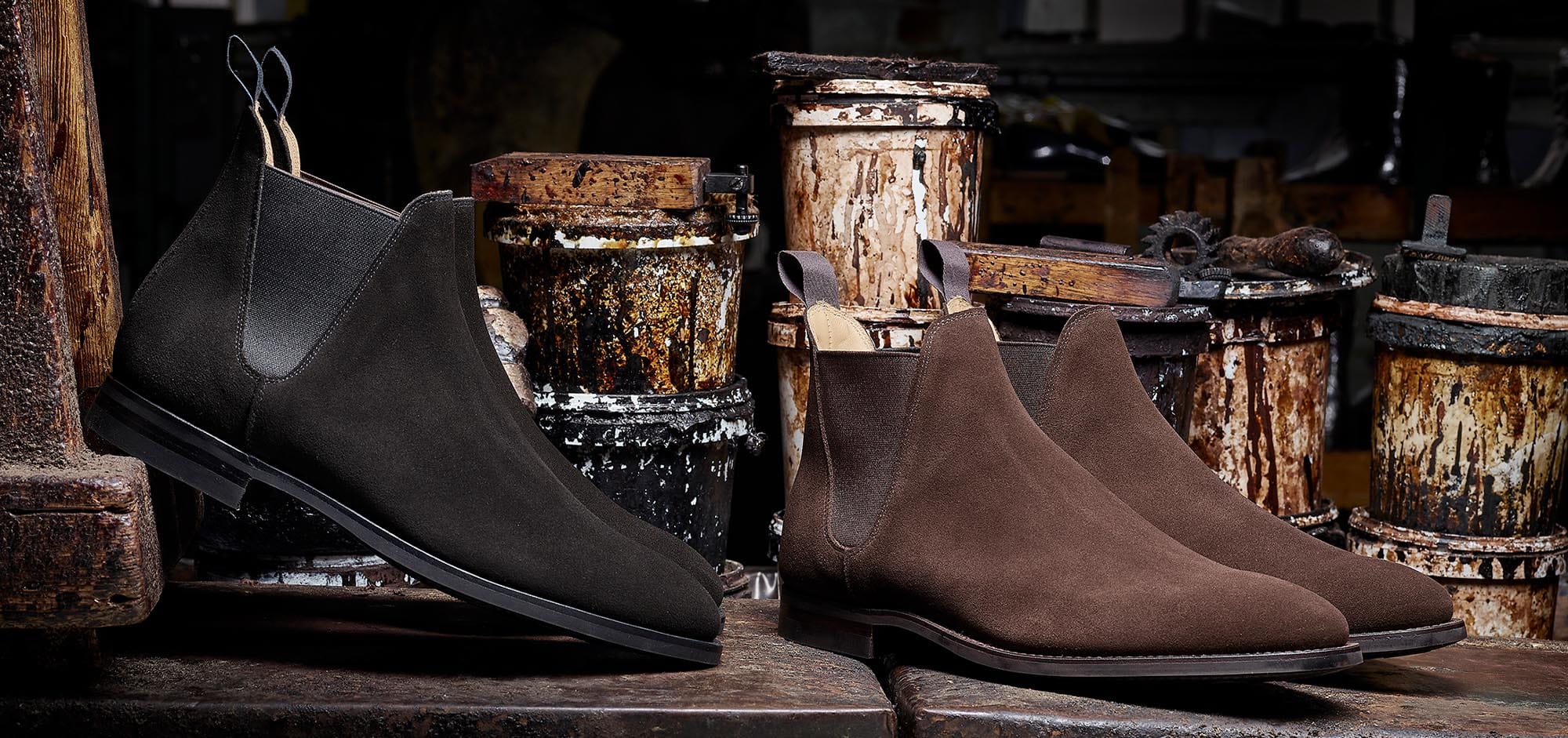 But, before we go into further detail, we are going to say something that won't shock the suede lovers among you: Suede is easier and quicker to care for than calf or grain. There, we said it.
Tanned in Leeds in the UK, in one of the world's most famous tanneries, Charles F Steads, the suede used by Crockett & Jones is as good as it gets. Steve Horne, Crockett & Jones' leather buyer extraordinaire, is meticulous when it comes to the suede utilised for our Mainline Collection. "We only use the best suede for Mainline," Steve explains. "Cow's leather can be up to an inch thick when it comes off the animal, so it is split into different pieces of varying quality. We use top quality suede which has a dense, healthy fibre structure. These maintain their shape and strength over time – and make for shoes that are comfortable and durable."
"Today, our main repello suede colours (Dark Brown, Snuff, Black, Navy & Earth Green) are waterproofed during the tanning process to ensure a very high level of water and oil resistance. There is absolutely no harm in adding a secondary (surface) layer of Invulner or Renovator suede spray, in fact, we recommend it."
In summary, we are confident that you can enjoy your Suede Shoes & Boots all year round, in fact we insist on it. We are handling the protection for you and by utilising only the highest quality suede, we are providing you with peace of mind for longevity in wear, rain or shine.
If you find yourself caught in the rain, suede requires drying (away from a direct heat source), a good brush with a medium bristled shoe brush from toe to heel to remove any debris… and that's it. They can then go back on the shelf ready for the next outing. Once every now and then, give them a brush with a suede brush and another spray with our protector spay, and your suede shoes will be your companions for years.